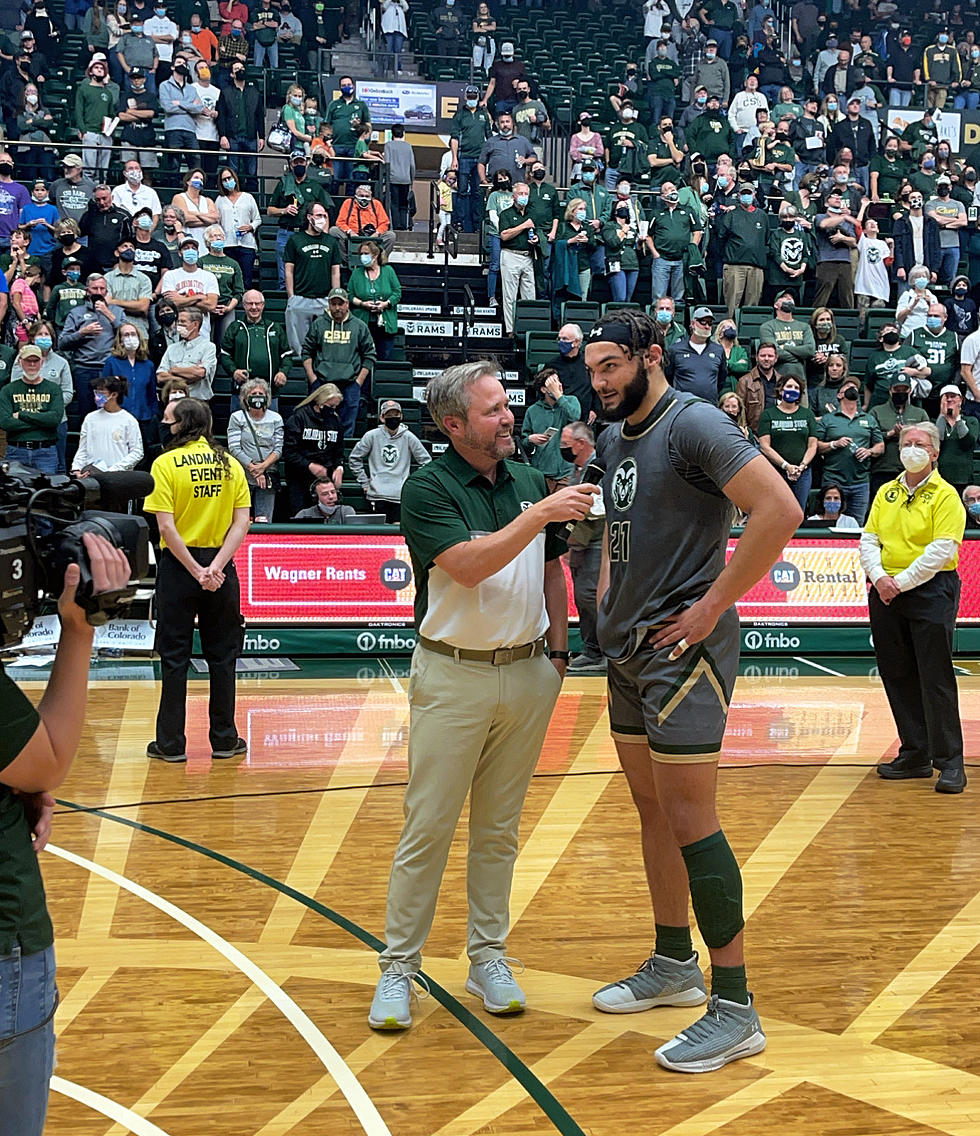 This CSU Basketball Star's Face Is Blowing Up On Instagram
Maxx/TSM
Whether you've been following Colorado State Men's Basketball for a week or a year, odds are you've heard of star forward x guard, David Roddy. Now, thanks to one fan account, his face is blowing up on Instagram
Roddy's been the talk of the town for some time now, and rightfully so -
The 6'6 255-pound junior who hails from Minneapolis, MN is currently averaging about 21 points a game, leading the Rams with 19 points and seven rebounds just last weekend as CSU successfully fought to win its ninth straight game to kick off the 2021-22 season in a record-breaking way.
Against the nation's fifth-ranked defense in terms of efficiency, the Rams scored on its first possession - first with a three-pointer from senior forward, Adam Thistlewood, then another from Roddy to take an early 6-0 lead against the Saint Mary's Gaels.
The CSU Rams were ultimately victorious over Saint Mary's who they beat 74-58 on Saturday afternoon (Dec. 4) at home in a packed Moby Arena.
Counting Saturday's game, David Roddy has now registered an impressive 996 points in his CSU career. According to CSU Athletics, there have only been 30 players to reach the 1,000-point mark as a Ram - and he's about to do it (so is his teammate, powerhouse junior guard Isaiah Stevens, who currently has 986 points in his CSU career).
Ram Fans simply cannot get enough of this CSU men's basketball team - and they certainly can't get enough of David Roddy.
In fact, there's a Ram fan out there that loves David Roddy so much, said fan has created the ultimate Instagram fan account dedicated to Roddy - and a blown-up version of his face that has seemingly taken on a form of life of its own.
Dubbed "Roddy In The Wild" (@roddy.in.the.wild), this Instagram account gives its followers a glimpse into the life of the famed CSU athlete - well, at least into the life of the blown-up cutout version of him.
Roddy can be seen hanging around, doing different things in various locations; from donating canned goods:
to doing his laundry - just like any other normal college student:
all while still finding time to set a good example for his fellow Rams on campus:
Can David Roddy possibly do any wrong? (no, he can't).
Whoever is behind this genius fan account, thank you for giving me, and thousands of others a good laugh; we're all really getting a good kick out of it - even the real David Roddy seems like he's enjoying it!
I don't know about you, but I can't wait until the next "Roddy In The Wild" update (follow and keep up with the fan account's latest posts here.)
In the meantime, pass this on to someone who needs a good laugh in their life (aka, everyone).
And, oh yeah - GO RAMS!
CSU Rams Fans Through the Years
5 Highest Paid CSU Employees