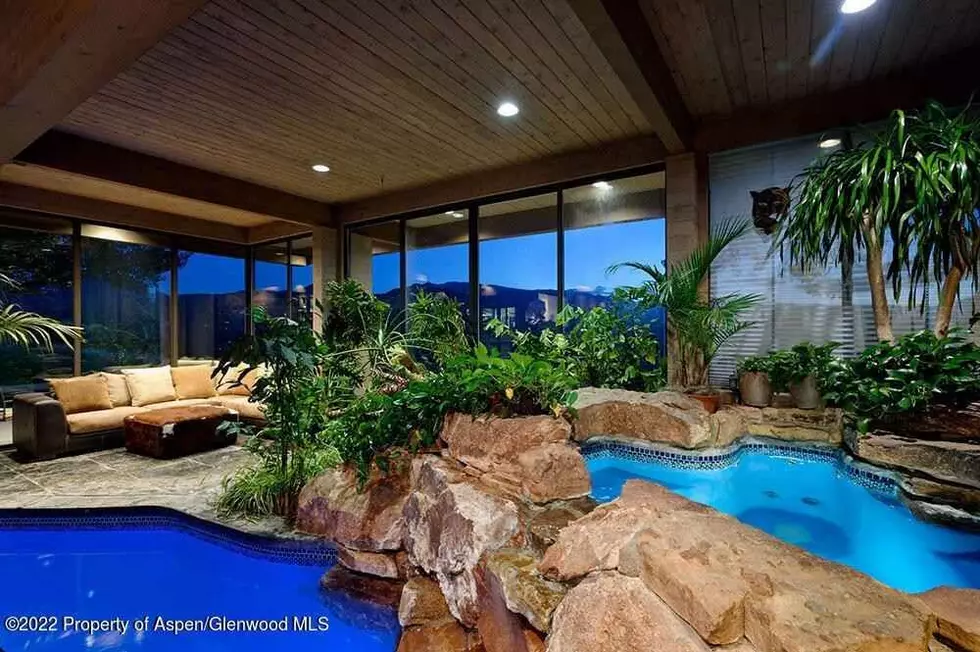 [LOOK] Retro Aspen Home has a Hot Tub, Pool in the Living Room
Team Benvenuto - Aspen Snowmass Sotheby's International Realty
Picture this... You just bought a home in Aspen, Colorado. Not only does the home have an amazing view, but it has nearly 4 acres of land too. The land alone can be worth millions in this part of Colorado.
Couple the prime land of this property with an indoor hot tub and swimming pool that has a cascading waterfall, and you might as well be in heaven. Does this sound like the place of your dreams?
This Aspen home located at 574 Johnson Drive is currently listed on Realtor for $9.95 million. The home has a total of four bedrooms, four and a half bathrooms, and 6,350 square feet of living space.
One of the most unique features has to be the hot tub and swimming pool located inside of the home. If you felt the urge to get up from the couch in the middle of a Netflix binge and take a swim, you can do so as the pool and hot tub are essentially located in the living room too. Check out the photos:
This Retro Aspen Home has a Hot Tub, Pool in the Living Room
Are you looking to take a dip in your pool year-round? Hop off the couch and into the pool in this Aspen home.
With a price tag of $9.95 million, you can expect to pay approximately $1,574 per square foot of living space for this Aspen home. For more information, you can see the full listing on Realtor.
Colorado's Newest Action Park Is Now Open And It's Awesome
We got to visit Colorado's newest action park and it was so much fun. These slides get some serious air!
5 Places to Rent an Exotic Car in Colorado
Looking to rent a Lamborghini or Ferrari? We know just the place.
Would You Move Out of Colorado to Live in This Oklahoma Castle?
Colorado is an expensive place to live. Would you move to an Oklahoma castle?