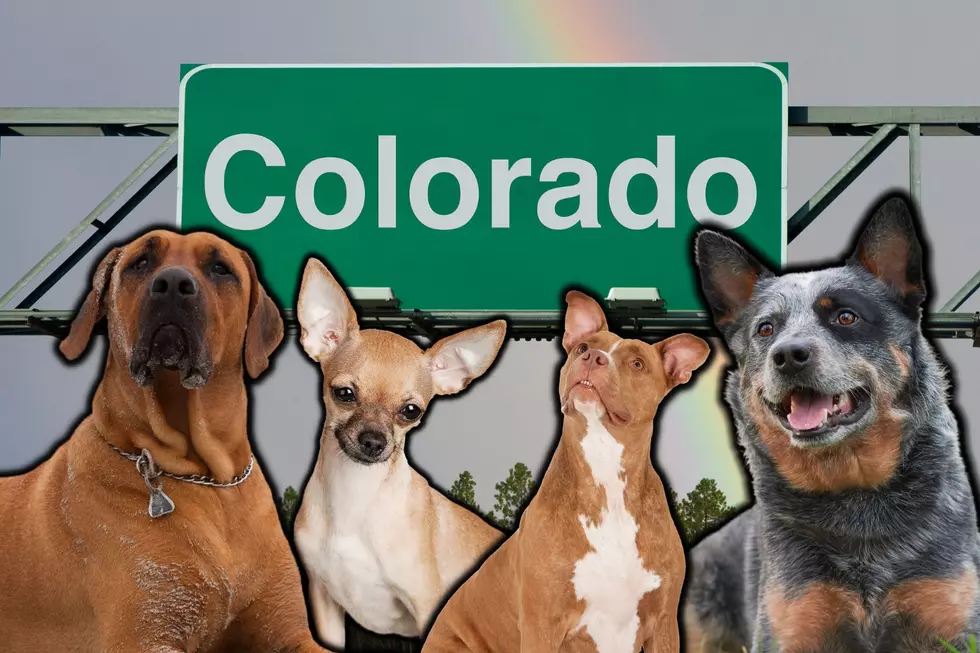 These Are the 5 Most Popular Dog Breeds in Colorado
Canva
Colorado residents love their dogs — in fact, Fort Collins recently ranked as the most dog-friendly city in the Centennial State.
Still, some dogs are more common than others. According to the American Kennel Club (AKC), labrador retrievers, French bulldogs, golden retrievers, German shepherds, and poodles are the most popular breeds in the U.S.
But what kind of canines does Colorado love the most? Read on to find out.
Rhodesian Ridgeback
WideOpenPets.com, BestLifeOnline.com, and BusinessInsider.com list the Rhodesian ridgeback as Colorado's most beloved canine.
AKC says the Rhodesian ridgeback is a "dignified, affectionate, even-tempered" dog and the perfect companion for an athlete (given that Colorado is one of the most in-shape states, this tracks).
Australian Cattle Dog
MarthaStewart.com and OutThereColorado.com find the Australian cattle dog to be Colorado's favorite pup.
According to AKC, the Australian cattle dog is an "alert, curious, pleasant" canine that makes an excellent running partner.
Chihuahua
TopAgency.com notes that Colorado residents are particularly fond of the Chihuahua.
AKC says the Chihuahua is a "charming, graceful, sassy" lapdog that thrives in a city environment — perfect for Denver and Fort Collins living.
Golden Retriever
TheDelite.com lists the golden retriever as Colorado's preferred dog breed.
According to AKC, the golden retriever is a "friendly, intelligent, devoted" canine that is great with families, young children, and other dogs.
Mutt
Reader's Digest finds that Coloradans have a soft spot for the mutt. This is because Centennial State residents love adopting shelter dogs, which are commonly mixed breeds.
Honorable Mentions
English bulldog (OutThereColorado.com)
Border collie (OutThereColorado.com)
Pembroke Welsh corgi (OutThereColorado.com)
German shorthaired pointer (OutThereColorado.com)
Labrador retriever (TopAgency.com & Reader's Digest)
Siberian husky (TopAgency.com)
Pit bull (TopAgency.com)
German shepherd (Reader's Digest)
---
Learn more about the animals Coloradans know and love in the gallery below.
Check out these 50 fascinating facts about dogs:
LOOK: Here Are 30 Foods That Are Poisonous to Dogs
To prepare yourself for a potential incident, always keep your vet's phone number handy, along with an after-hours clinic you can call in an emergency. The ASPCA Animal Poison Control Center also has a hotline you can call at (888) 426-4435 for advice.
Even with all of these resources, however, the best cure for food poisoning is preventing it in the first place. To give you an idea of what human foods can be dangerous, Stacker has put together a slideshow of 30 common foods to avoid. Take a look to see if there are any that surprise you.