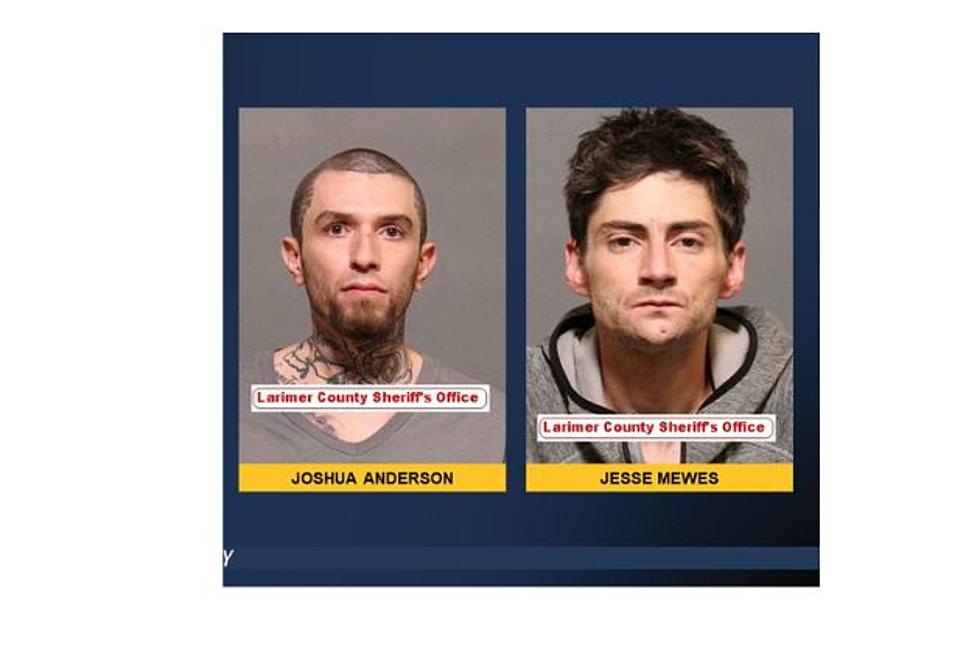 Windsor, Fort Collins Men Arrested For Plotting Triple Murder
Canva/Larimer County Sheriff's Office
A Windsor man and another from Fort Collins are behind bars following their arrests for allegedly plotting to murder three people.
That's according to a post on the Larimer County Sheriff's Office Facebook page.
According to the post, 29-year old Joshua Anderson of Windsor was already in the Larimer County jail on several charges related to a 2022 Fort Collins case.
His charges in that case include:
⚬ Attempted First Degree Murder After Deliberation
⚬ Attempted Extreme Indifference First Degree Murder
⚬ Extortion
⚬ Felony Menacing (2 counts)
⚬ Possession of a Weapon by Previous Offender (3 counts)
⚬ Violation of a Protective Order
⚬ Violent Crime Enhancement
⚬ Child Abuse
⚬ Habitual Criminal Enhancement (6 counts)
.But earlier this month, sheriff's deputies allegedly found out that Anderson was plotting the deaths of witnesses and a victim in that case. The post says Anderson was ''communicating with outside associates'' to make that happen.
The investigation led to the arrest of  45-year-old Jesse Mewes of Fort Collins on the following charges:
⚬ Conspiracy to Commit First Degree Murder (F2)
⚬ Possession of a Weapon by a Previous Offender (F5)
⚬ Habitual Criminal Enhancement
Mewes was booked into the Larimer County Jail. He was issued a $250,000 cash/surety bond by Larimer County Court Magistrate Jeffrey Schwartz.
Anderson had new charges logged against him for the plot to kill the witnesses and victim in the latest case against him:
⚬ Solicitation to Commit First Degree Murder After Deliberation – 3 counts (F2)
⚬ Conspiracy to Commit First Degree Murder After Deliberation (F2)
⚬ Habitual Criminal Enhancement
Magistrate Schwartz issued a $1,000,000 cash/surety bond in addition to the $516,075 (cash/property/surety) and $1,000 (personal recognizance) bonds associated with Anderson's previous charges. He also has a no bond warrant out of Jefferson County.
The post is asking anyone information on the case to Investigator Joshua Taylor at (970) 498-5541. Tipsters can remain anonymous by  contacting Crime Stoppers of Larimer County at 970-221-6868 or
www.stopcriminals.org.
2022's Deadliest Wyoming County by Traffic Deaths
While car crashes can occur anywhere, some roads in Wyoming are more dangerous than others.
According to
Wyoming Highway Patrol
data, there were 117 fatal crashes in the Cowboy State in 2022 resulting in 133 deaths.
Of those fatal crashes, the majority (13.68%) occurred in Laramie County -- two in January, one in February, one in March, two in April, one in June, two in July, three in August, two in September, one in November, and one in December.
Sweetwater County saw the second most fatal crashes last year, 12, while Fremont and Lincoln counties each saw 10.
Albany and Park counties each recorded eight, and Campbell, Converse, and Natrona counties each tallied seven.
The deadliest 2022 crash in Laramie County took place on June 17 when two semis collided on Interstate 80 east of Cheyenne and immediately became engulfed in flames killing both drivers and a passenger.
Laramie County also saw two fatal crashes involving motorcyclists, two fatal crashes involving juveniles, and a fatal crash involving a pedestrian last year.