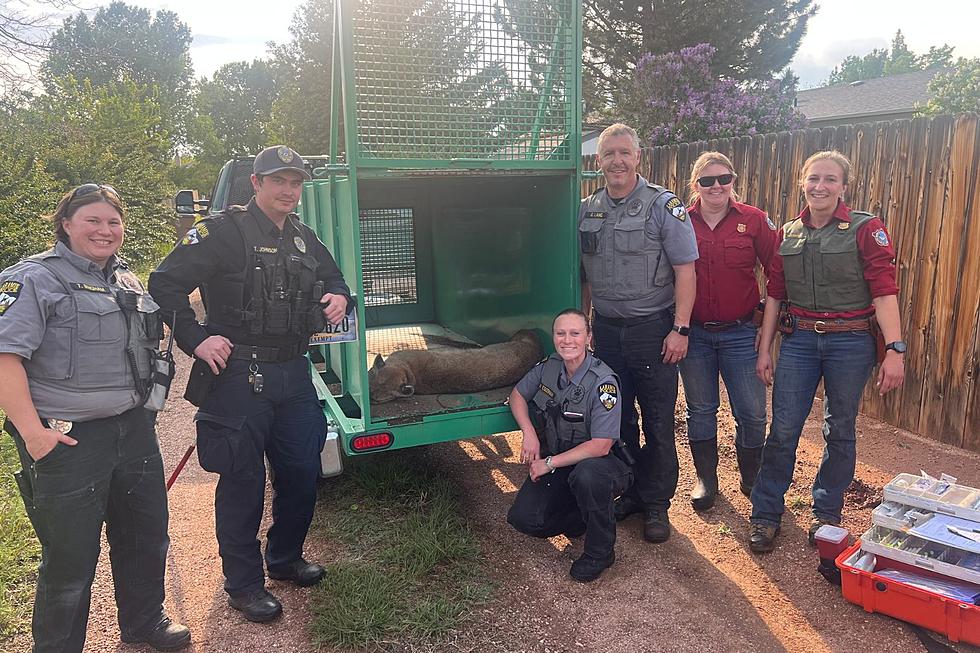 Mountain Lion Relocated After Wandering Into Laramie Backyard
Albany County Sheriff's Office
Tuesday was an exciting day for police in Laramie after a mountain lion wandered into someone's backyard.
According to a department Facebook post, the Wyoming Game and Fish Department was able to help police and animal control officers with the large cat and safely relocate it to its habitat out of town.
Because the mountain lion was relocated, Animal Control would not release any details about the cougar or say where in town it was located, but a comment on the police department's post indicated it was over by North 16th Street.
"Remember if you see a mountain lion in town, do not approach it, if you are able to seek indoor shelter do so without running but rather face the animal and make eye contact, otherwise make yourself appear as large as possible and try to make eye contact," police said in their Facebook post.
"Call 911 or our non-emergency number 307-721-2526 to report the lion so we can get the appropriate response sent," police added.
Due to Laramie's close proximity to mountain lion territory, Animal Control says it's not uncommon to see one or two of them wander into town each summer.
---
UPDATE:
The Wyoming Game and Fish Department has confirmed that the mountain lion was immobilized in the North 16th Street area.
Laramie Region Public Information Specialist Caroline Rosinski says the cougar was a 2- to 2 1/2-year-old female and showed no signs of aggressive or unusual behavior.
"It was young, so probably just wandered around and stumbled into the wrong place," said Rosinski.
"Our game wardens relocated it up to the Snowy Range," she added. "The release went really well and that animal took off."
$11+ Million Dollar Wyoming Ranch Has Elk, Deer & Mountain Lions