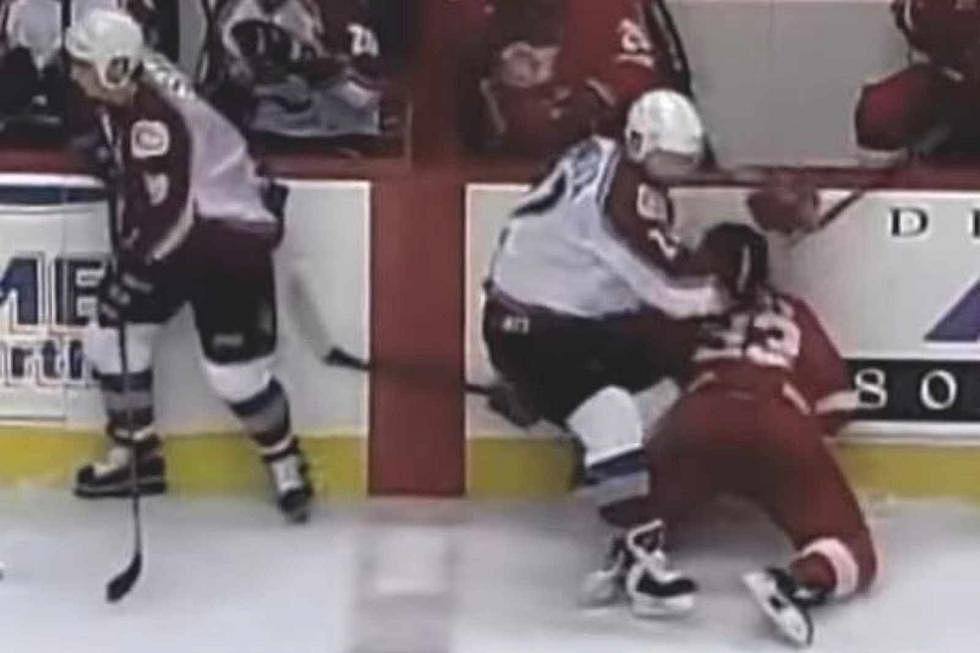 ESPN to Air Documentary About 1997's Huge Red Wings and Avalanche 'Brawl'
YouTube/Jacko TV
25 years have passed since one of the bloodiest, meanest, and craziest hockey games took place, between the Avalanche and their rivals, the Red Wings.
If there's one thing you remember from those first early years of the Colorado Avalanche, it's the rivalry between them and the Detroit Red Wings. 'Red Wings Suck!' was the chant, anytime they came to town.
The Quebec Nordiques became the Colorado Avalanche in 1995; Denver and the whole state ate it up. If you think the Avalanche are popular now, you should have seen it 25 years ago. Everyone rooted for them, especially because they were a great team; they won the Stanley Cup with their first season in Denver. It was incredible.
That rivalry between the Avs and the Red Wings was on fire. It had more heat than the legendary (at the time) of the rivalry between the Broncos and the Raiders. With this rivalry, players really beat each other up. That's what hockey was, back then. Sure, you see some fights now, but back then it was ferocious.
Especially on March 26, 1997.
At that time, the Red Wings, and all of Detroit actually, had it out for Avalanche right wing Claude Lemieux. During the Stanley Cup playoffs, Lemieux had put a cheap hit on Red Wings' centreman Kris Draper, taking him off the ice for six months.
Because of an injury, March 26, was the next chance that the Red Wings got to play against Lemieux and they were ready to fight on their home ice in Detroit.  There were nine fights during the game, the 'Brawl,' including the Red Wings' Darren McCarty 'coldcocking' Lemieux. It was epic.
Now, 25 years later, the ESPN program E60 will be airing what looks to be a terrific documentary about the teams' rivalry and that one game.
PHOTO FLASHBACK: Colorado Avalanche Win 2001 Stanley Cup Championship
The 2001 Stanley Cup Finals was a hard-fought series between the two top teams in the NHL. The series was extremely physical and would go 7 games - with the Avs having to win the final two games to win the title. Here is a look back at some great Colorado Avalanche history - and a closer look at that thrilling series.
All the Athletes That Once Called Colorado Their Home
We have compiled a list of athletes who were either born in Colorado or have lived in the mile-high state. Scroll through the photos below and see how many of these Colorado athletes you can name.
Ten of the Best Athletes Born in Colorado
While when you think of
Colorado
athletes, some of the people who come to mind are John Elway, Peter Forsberg, and Peyton Manning, none of them were actually born in the Centennial State.
Here are ten of the most famous athletes from the great state of Colorado.