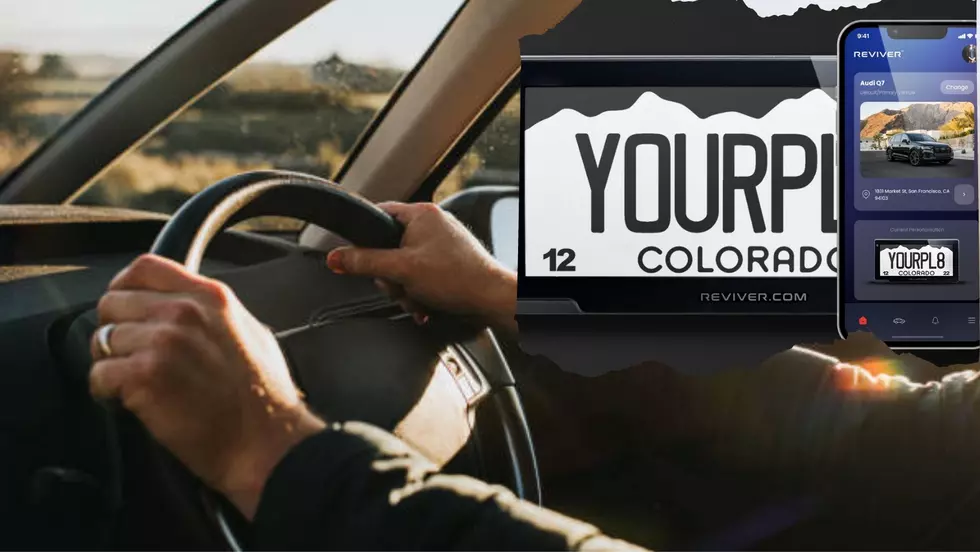 Digital License Plates Will Soon Be Available In Colorado
Reviver.com/Getty Images/Canva
Coloradans will soon be able to purchase their very own digital license plates thanks to a brand-new bill signed into law that is set to go into effect next month.
According to Colorado Politics, the legislation permitting the modernized plates in Colorado, House Bill 1162, was signed into law by Colorado Governor Jared Polis back in April.
On Wednesday (July 6), digital license plate developer Reviver announced it has complied with state requirements and will begin selling the plates across Colorado once the bill goes into effect.
"We are incredibly proud to reach this important milestone as we look to expand access to Reviver's products and make digital license plates available to vehicle owners in the great state of Colorado," said Neville Boston, Co-Founder and Chief Strategy Officer for Reviver, as per a recent press release via the digital license plate developer.
"Our mission is to transform vehicle ownership and registration into a more seamless and modern experience, and we can't thank our many partners throughout the state – legislators, government representatives, transportation officials, and others – who have supported us on this journey and helped open the doors of opportunity in yet another state."
About Reviver's Digital License Plates
The RPlate – Reviver's consumer digital license plate product – offers two device options that will soon be available to interested purchasers here in Colorado:
a battery-powered, self-installed model with a replaceable 5-year battery available at $19.95/month
a hard-wired, professionally installed model with integrated telematics features and a backlit display, at $24.95/month
Both devices offer users a new platform to connect their vehicle with a set of services including registration renewal, vehicle location services, and security features such as easily reporting it stolen, according to a July 6 press release. 
In addition, commercial fleet businesses in Colorado will also soon be able to access digital license plates via RFleet, which combines RPlate features along with the RFleet Software Dashboard.
RFleet offers a suite of features tailored to businesses managing vehicle fleets, including automated vehicle registration and compliance, as well as an expansive set of telematics and safety features.
About Colorado House Bill 1162
Under the newly implemented bill, digital license plates will be permitted for use in place of standard metal plates as long as the registration number and expiration date are visible from 100 feet away in the sunlight.
While the digital plate would be strategically placed on the vehicle' back end, a metal plate would still be required for the front under the new bill, Colorado Politics said. 
"A digital option for license plates embraces Colorado's innovative spirit," said Matthew Packard, chief of the Colorado State Patrol. "As this technology is implemented, we will be working together to ensure their deployment is in the best interest of public safety."
The bill, which takes effect in August, passed the legislature with strong bipartisan support, receiving 30-5 approval in the Senate and 55-5 approval in the House.
"As everything in automotive and society, in general, is going electronic, now so can your vehicle registration and license in the state of Colorado," said Tim Jackson, President and CEO of the Colorado Automobile Dealers Association, as per the July 6 press release. 
"To benefit both safety and convenience, the Colorado General Assembly teamed with Reviver to enable the most technologically advanced electronic license plate available anywhere, so it will soon be available for Colorado residents."
Colorado will be the fifth state to authorize Reviver's digital license plates for sale and DMV registration, joining four other U.S. states - California, Michigan, Arizona, and Texas.
However, there are reportedly more than ten other states that are in various stages of adopting digital license plates, Reviver says.
The 10 Happiest Places In Colorado
These Are The 6 Worst Towns To Raise a Family in Colorado
When it comes to the worst towns in Colorado, these are the top 6.