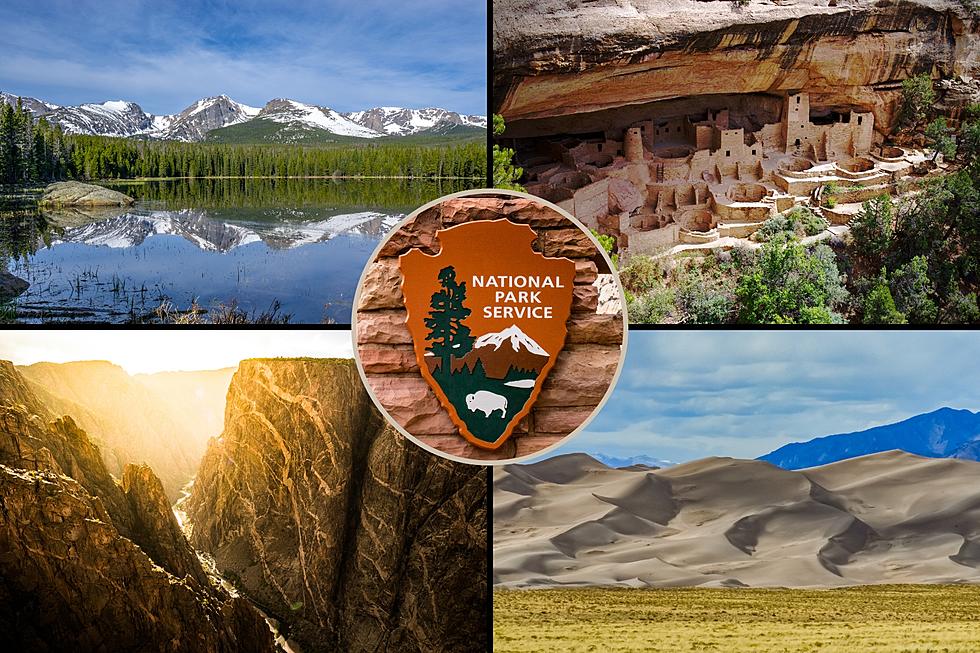 See All 4 of Colorado's Amazing National Parks
Canva Pro
If you love the outdoors as much as the staff does at our radio station, you probably love spending time in Colorado's National and State Parks.
Between camping, hiking, and fishing, you could spend weeks in some of our National Parks and still not see everything that has been set aside for you to enjoy. We're taking a look at all of Colorado's National parks below, plus two bonus parks not all that far from Grand Junction.
How Many National Parks are in Colorado?
There are four National Parks in the state of Colorado. There are 43 State Parks, and nine National Monuments. Since Grand Junction is one of the largest cities closest to Arches National Park and Canyonlands National Park near Moab These parks probably see more Colorado visitors at times than those who actually live in Utah. It's ok if you call them ours. We won't tell Utah. Here are Colorado's four National Parks:
Which National Park is the Most Visited in Colorado?
Rocky Mountain National Park is one of the most visited National Parks in America. RMNP sees an average of 4.5 Million visitors every year. Mesa Verde National Park averages about 600,000 guests annually. The Great Sand Dunes National Park gets an average of 500,000 visitors each year. The Black Canyon of the Gunnison National Park sees about 400,000 guests annually.
Western Colorado Claims Moab, Utah's Parks As Well
It takes far less time to visit Arches National Park and Canyonlands National Park for someone who lives in Grand Junction than it does for someone in Salt Lake City. I bet somewhere there are numbers that show more people from Colorado visit those National Parks than anyone else. We've included them as well so that after we invade Moab, Utah, and annex them they will already be a part of the list. Scroll on to see all the parks.
The Top 4 National Parks in Colorado
The state of Colorado is home to four National Parks. They include Rocky Mountain National Park, the Great Sand Dunes National Park, Mesa Verde National Park, and the Black Canyon of the Gunnison National Park. If you live in western Colorado then you also get to adopt the two National Parks close by in Utah. Scroll on to learn about all six in the gallery below.
LOOK: Colorado + Utah Parks Among Top 10 Most Dangerous National Parks
Check out the most dangerous National Parks located in Colorado and Utah. Find out the number of fatalities that have occurred in each park, and see which ones made the top 10. Have you been to any of these dangerous National Parks? Tell us about your experience with the chat feature on our station app.
MORE: See Colorado's Beautiful State Parks
There are 42 State Parks open to the public in Colorado with 1 in development. We also include the Arkansas Headwaters Recreation Area as an unofficial State Park. Scroll through the photos to learn more about each one of these popular destinations.