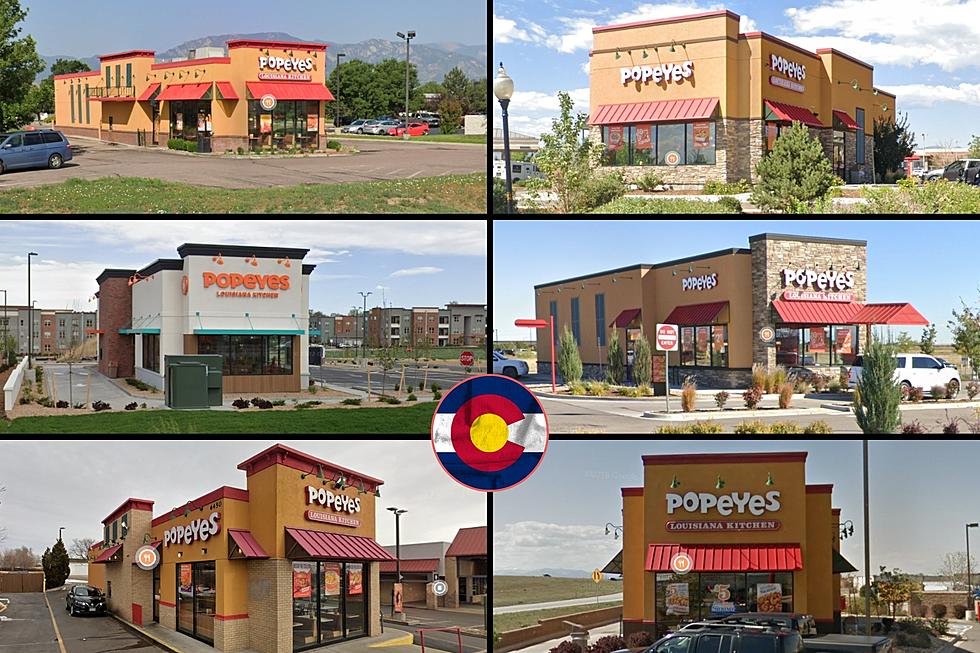 How Many Popeyes Louisiana Kitchen Restaurants Are Here In Colorado?
Canva Pro
When you see an orange and white lettering on a restaurant the first two places I think of are either Whataburger or Popeyes Chicken. Two great places to eat at and both use a similar color scheme. Are they on to something?
Western Colorado, when we ask you about your favorite place to go for fried chicken, one of the most popular answers is Popeyes. Just how many Popeyes are in Colorado? When compared to Starbucks not many. Scroll on to see the 15 communities lucky enough to be close to some great chicken.
Where Was Popeyes First Location?
Popeyes Louisiana Kitchen first opened in New Orleans, Louisiana in 1972. They are now in 46 states in America, and in 30 countries worldwide. That's a lot of spicy chicken. The first location was named "Chicken on the Run". While it only lasted a short time, the owner Al Copeland rebranded the business as 'Popeyes Mighty Good Chicken' and things took off from there.
Popeyes Love Affair with Nascar
Popeyes has been a sponsor of the Nascar Circut since 2000. Nascar Busch Series driver Rich Bickle was sponsored by Popeyes for six races. Mark McFarland drove with Popeyes the following season. They sponsored Tyler Matthews in the World Truck Series with the 99 Popeyes Truck, and Brennan Poole at Homestead-Miami Speedway.
Western Colorado's Popeyes is in Clifton, Colorado
When Grand Junction wants that tasty spicy chicken we get to go earn it. You have to drive ALL the way down Patterson Road to get to it. Every time I get home with a box of chicken and biscuits I feel like I really earned it going through all the light cycles.
Scroll on to find all of the Popeyes Louisiana Kitchen locations in the state of Colorado. Can you believe only 15 communities are lucky enough to have one?
How Many Popeyes Louisiana Kitchen Restaurants Are Here In Colorado?
The very first Popeyes Louisiana Kitchen opened in New Orleans in 1972. Today there are 3,705 locations worldwide and not nearly enough in the state of Colorado. There are only 15 cities in Colorado that are lucky enough to have Popeyes. Scroll on to see them all.
TENDERS: These are Western Colorado's Favorite Places for Chicken Tenders
A plate full of tasty chicken tenders can sure hit the spot. You don't have to be 4-years-old to enjoy them, but parents love seeing this favorite on any menu. We asked you which places in Grand Junction have great chicken tenders. Grab your favorite dipping sauce and check out clucking great list:
MORE: 12 of the Best Spots in Western Colorado for Finger-Lickin'food Chicken Wings
Hungry for chicken wings on the Western slope? We have you covered with 11 places just down the street serving great-tasting chicken wings smothered in your favorite sauces. How many have you tried?