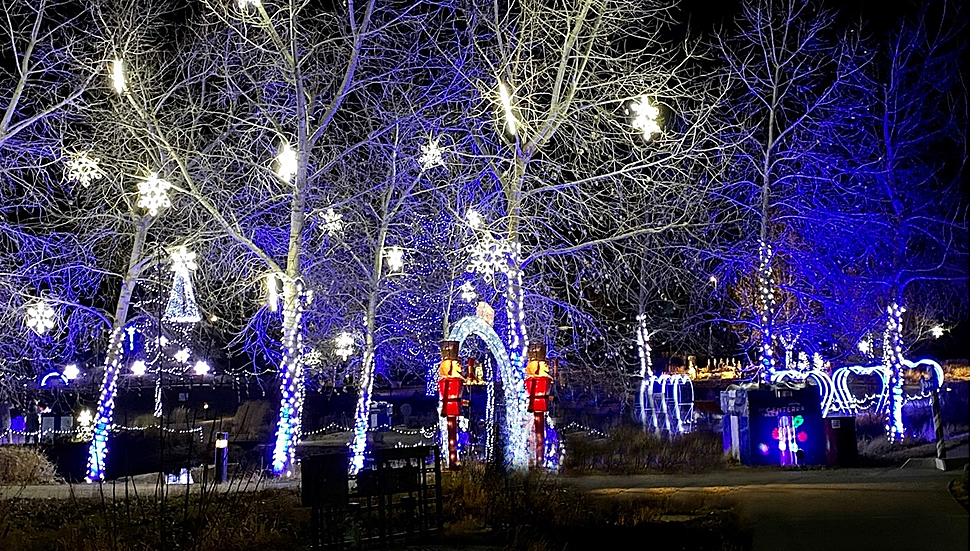 Christmas 2021 in Loveland: Winter Wonderlights Events
Visit Loveland
Festive lights are a huge part of the holiday season, whether it be Thanksgiving, Christmas, New Year's, or the many other celebrations this time of year.
Loveland's Winter Wonderlights will bring a smile to your face, even when you're wearing a mask. Lights, music, and a even taller tree than before.
It really is something to see every year; and by adding more they've made it more enticing, especially when it's all free. They've strung over 100,000 holiday lights, along with twinkling bulbs, snowflakes and the illuminated arches, that will be synchronized to the 30-minute musical performances that will go every night starting at 5 p.m.
It's all happening at the wonderful Chapungu Sculpture Park, just east of The Promenade Shops at Centerra.
HOW TALL IS THIS YEAR'S TREE?
The 2021 Winter Wonderlights Tree, which you can see from Fairgrounds Boulevard as you turn into The Promenade Shops is 23 feet tall.
WHEN ARE THE 'WONDERLIGHTS LIVE!' EVENTS?
November 13
November 20
December 4
December 11
WHAT WILL 'WONDERLIGHTS LIVE!' CONSIST OF?
NEW -- A 26-foot inflatable Santa Haus with Santa and Mrs. Claus. Bring your camera, or use their onsite selfie station and get photos texted to you onsite (Nov. 13, Nov. 20 and Dec. 11 only.)
LIVE Reindeer visits on November 20 and December 4.
The Igloo Stage (the largest inflatable igloo stage in Colorado) featuring dance and musical acts from the area.
Pyrotechnic surprise (weather permitting.)
Hot beverages and food trucks.
Mini donut snacks November 13, November 20, December 11.
Princess Party Night on December 4 with free meet-and-greets.
It will be a great way to celebrate the holidays. Get more from Visit Loveland HERE.
Red Rocks Will Be Showing Some Great Holiday Movies!
This holiday season, you can load up the car with loved-ones and check out some of the greatest movies of the season, at Colorado's greatest venue.
'Restaurant Impossible' Made Over a Loveland Mexican Restaurant - Take a Look!
It was pretty big news when it was announced that Food Network's 'Restaurant Impossible' was coming to Loveland.