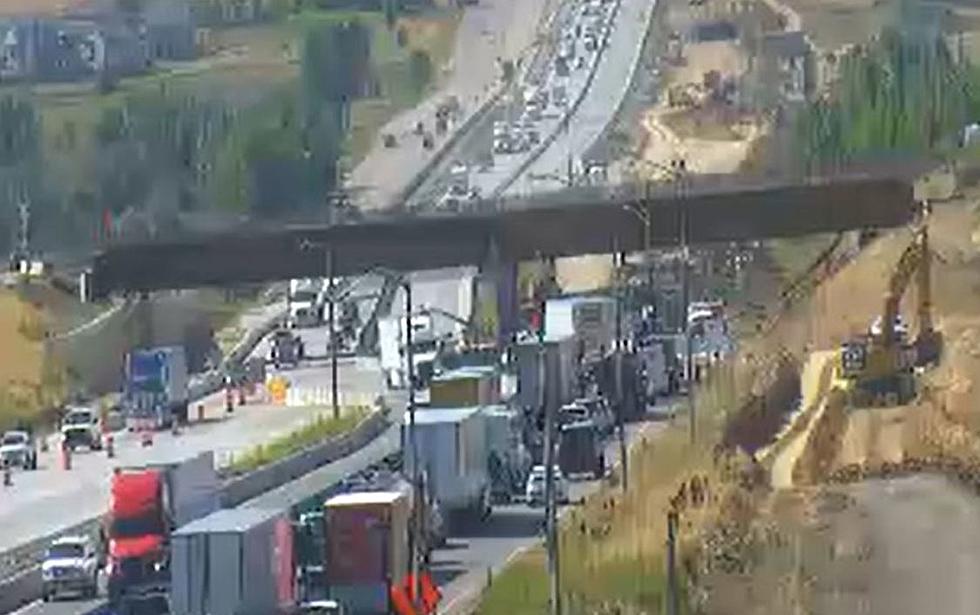 Work Zone Crash Closes Southbound I-25 at US 34 in Loveland
@Denver7Traffic, Twitter
At least one southbound lane on I-25 is closed in the Loveland area, CDOT has reported on Twitter. 
The initial report from CDOT's Twitter came at 10:25 a.m. on Tuesday, stating that both southbound lanes were closed between Exit 257, which is US 34 in Loveland, and Exit 255, which is CO 402 in Loveland.  At 10:29 a.m. CDOT reported that just the left lane was blocked, causing serious congestion. CDOT said there is no estimated time of full reopening. No further information regarding vehicles involved or injuries was available as of 11:45 a.m.
That stretch of I-25 is also a construction zone, which has been a hot spot for collisions due to new alignments and seemingly narrowed lanes sided with concrete barriers. In March of 2021, a diesel tanker crash closed I-25 between Exit 257 and 255 due to the large fuel spill that resulted from the wreck.
March 2021 Crash
In January of 2021, the same stretch of the highway closed for several hours after a truck collided with a concrete barricade. The crash sent debris into oncoming lanes and also caused a fuel spill, but fortunately no injuries were reported.
January 2021 Crash
5 Most Dangerous Intersections in Fort Collins