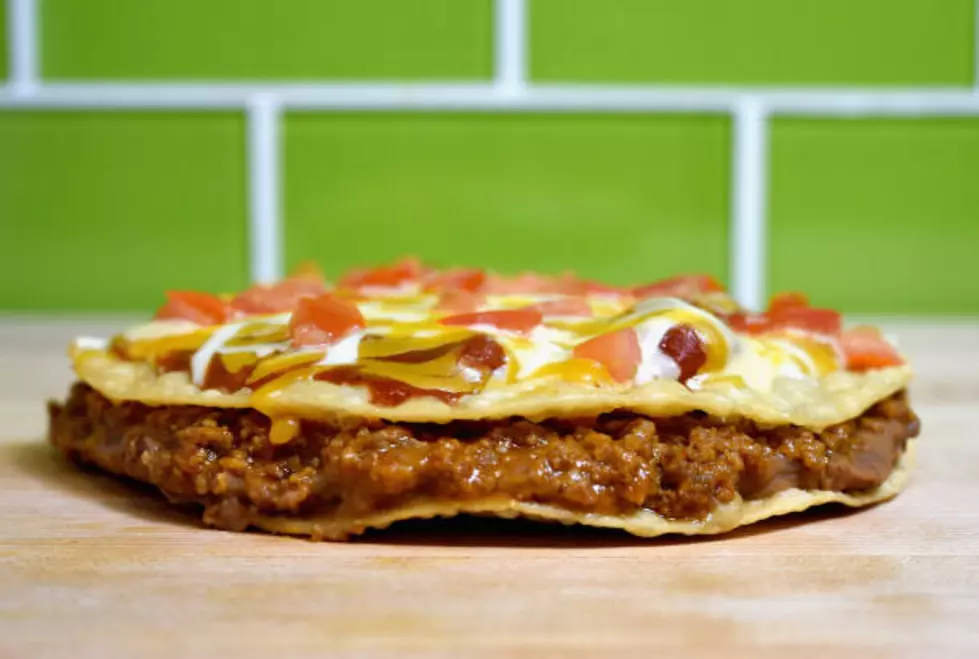 Taco Bell Is Bringing Back The Mexican Pizza – Here's When You Can Get Yours
Getty Images
Taco Bell lovers, rejoice.
They say don't fix things that aren't broken - but when it comes to Taco Bell - the restaurant chain certainly knows a thing or two about fixing things that, in fact, never needed any fixing.
Exhibit A: 
After nearly two years, however, it's looking like Taco Bell is finally ready to redeem itself - in the form of permanently bringing back one of the chain's most beloved menu items.
How It Started
One day back in 2020, right in the midst of the world's total breakdown (I'm talking about the COVID-19 pandemic) Taco Bell decided to commit a very heinous crime against its loyal fans.
For whatever reason, the ultra-popular Mexican fast-food chain chose to do away with, arguably, the restaurant's most popular menu item - the Mexican Pizza.
It's safe to say that fans of the beloved delicacy were, as you can imagine, devastated. 
What exactly is Taco Bell's Mexican Pizza?
Taco Bell's incredible, delectable, famous Mexican Pizza starts off as a flat tortilla that's covered in pizza sauce and beans (and/or ground beef, depending on your preference).
Then, another layer of tortilla is pressed on top before it is smothered in even more pizza sauce and a combo of a blend of cheeses and chopped tomatoes.
And people. are. obsessed. 
Taco Bell Teases The World With The Return Of Mexican Pizza
As if getting rid of Mexican Pizza once wasn't painful enough, Taco Bell decided to tease the world and bring the raved-about menu item back in 2021, but only for a brief period of time.
After getting rid of the Mexican Pizza for the first time in 2020, the fast-food chain was forced to pull the menu item once again after saying it had "underestimated" the popularity of the menu item and needed to restock on ingredients.
"Turns out we underestimated how many of you love Mexican Pizza. 7x more than we expected, to be exact," the company tweeted in late May.
"We are working as fast as we can to restock Mexican Pizza ingredients. We'll need some time to replenish our supplies, but when it comes back, we promise it's here to stay."
And well... the time has finally come.
Taco Bell's Mexican Pizza Is Returning - For Good
On Tuesday (Aug. 2), Taco Bell took to socials to make an announcement that was bound to shake the world up (for the better, this time around) -
Taco Bell's Mexican Pizza will finally be back on menus nationwide on Thursday, September 15 - and, as you can imagine, people are freaking out (for all the right reasons this time).
Taco Bell Locations In Northern Colorado
Northern Colorado loves Taco Bell - so much so, that we've got over a dozen locations in our area.
Can't wait to get your hands on a good ole Mexican Pizza (or perhaps, one of Taco Bell's other delicacies?
When those cravings hit - and once Sept. 15 rolls around - you knooooow where you're going to want to be - read on to find the closest Taco Bell to you:
Loveland Locations: 
1330 Lincoln Ave.
1650 Foxtrail Dr. 
115 65th St.
Greeley Locations: 
3503 W. 10th St. 
2450 8th Ave. 
4638 Centerplace Dr. 
6910 10th St. 
Fort Collins Locations: 
1527 W. Elizabeth St. 
1101 Central Avenue Mall 
1530 S College Ave. 
1227 E. Magnolia St. 
4100 S College Ave. 
Windsor Locations: 
101 12th St. 
6465 Crossroads Blvd. 
Johnstown Locations: 
Timnath Locations: 
Wellington Locations:
50 Most Popular Chain Restaurants in America
YouGov investigated the most popular dining brands in the country, and Stacker compiled the list to give readers context on the findings. Read on to look through America's vast and divergent variety of restaurants—maybe you'll even find a favorite or two.
LOOK: Food history from the year you were born
From product innovations to major recalls,
Stacker
researched what happened in food history every year since 1921, according to news and government sources.
Northern Colorado's Biggest Food Cravings
For us living in Northern Colorado, we are extremely fortunate to have so many great food options that are sure to satisfy any and every food palate.
While we do have a wide variety of restaurants and foods to choose from, sometimes, you can't help but get a craving for something specific.
Mouth-watering, sweet (& savory), delectable, incredible - all words you can use to describe NoCo's food scene, from the restaurants themselves to actual dishes.
We asked, you delivered - we've compiled a list of just some of NoCo's biggest food cravings. What's yours?
The Best Non-Chain French Fries In NoCo - Here's Where To Find Them
ALL avid fried potato lovers know that not all french fries are created equal - so we've compiled a list of the best of the best, right here in Northern Colorado.
(Warning: reading on may cause serious cravings)