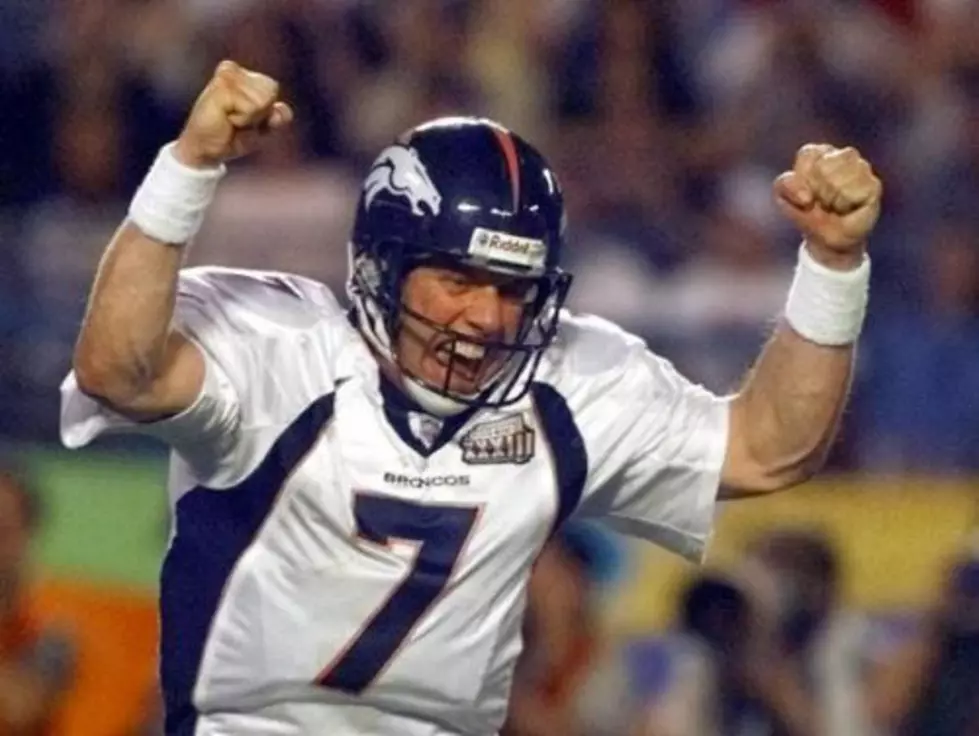 Remembering the Last Time the Denver Broncos and Atlanta Falcons Played a Big Game – Super Bowl XXXIII [VIDEO]
Sure, tonight's game between the Denver Broncos and Atlanta Falcons is no Super Bowl, it's not even a playoff game or a regular season game that has playoff implications, but it is pretty big. Monday Night Football in front of a huge national audience that want to see if Peyton Manning really is back and also the continued growth of the Falcons young gunner, Matt Ryan. But instead of speculating what will happen tonight, let's take a trip down memory lane to the most meaningful Bronco Falcon match-up, 1999's Super Bowl XXXIII.
The defending Super Bowl champion Broncos entered the game with an AFC-best 14-2 regular season record. The Falcons, under former Denver head coach Dan Reeves, were making their first Super Bowl appearance after also posting a 14-2 regular season record.
Much of the pregame hype was centered around Elway confronting his former coach Reeves. Mike Shanahan was hurt and angered by Reeves' pregame assertion that Shanahan and Elway had conspired to have him fired during his stint at Denver. Media coverage also focused on whether or not Elway would retire after the season (which he eventually did). Also, On the night before the Super Bowl, Falcons safety Eugene Robinson was arrested for solicitation of prostitution. While driving alone in a rented car along a downtown Miami street, he approached a female undercover police officer posing as a prostitute and offered $40 for oral sex. Although he was released from jail and allowed to play the game, he was widely denounced by the press and fans for the incident. Robinson's arrest was especially ironic because on the very morning of the day it happened, he had received the Bart Starr Award for his "high moral character."
The pregame show, narrated by actress Tori Spelling, depicted the adventure of a Caribbean cruise from its festive departure to its journey to exotic destinations. The show included a performance by KISS, along with their trademark elaborate costumes and theatrical pyrotechnics. Cher later sang the national anthem. The halftime show was titled "A Celebration of Soul, Salsa and Swing" and featured Big Bad Voodoo Daddy, Stevie Wonder, and Gloria Estefan. Big Bad Voodoo Daddy performed their song "Go Daddy-O". Wonder sang "Sir Duke", "You Are the Sunshine of My Life", and "I Wish". And Miami-native Estefan performed "Oye!" and "Turn the Beat Around", then a special performance by Stevie Wonder and Estefan was given performing Estefan's hit "You'll Be Mine (Party Time)". Tap dancer Savion Glover appeared during Wonder's performance of "I Wish".
Aided by quarterback John Elway's 80-yard touchdown pass to receiver Rod Smith, Denver scored 17 unanswered points to build a 17-3 lead in the second quarter that Atlanta could not recover from. The Broncos defeated the Falcons by the score of 34–19, winning their second consecutive Super Bowl. At 38 years old, Elway became the oldest player ever to be named Super Bowl MVP. As the final game of his career, he completed 18 of 29 passes for 336 yards, with one touchdown and one interception, and also scored a 3-yard rushing touchdown. Elway retired on May 2 before the following season.