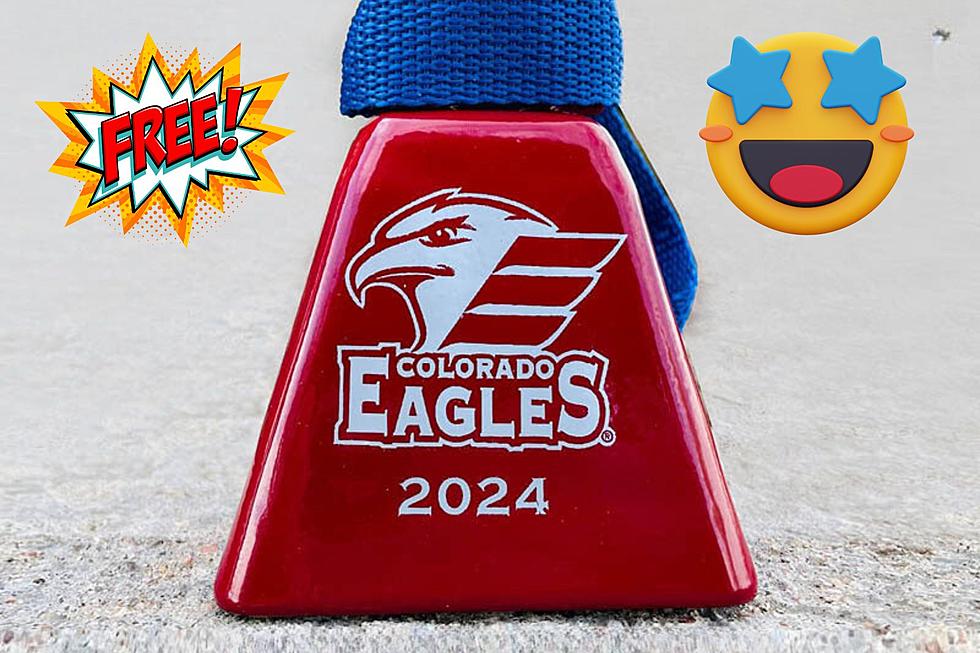 Colorado Eagles Giving Out 2,000 Free Cowbells On Friday
Colorado Eagles / Canva
A Colorado tradition of over 20 years, and it will continue this Friday night at the Blue Arena in Loveland, Colorado. How do you get the hook-up at the world-famous Colorado Eagles Cowbell Night?
Colorado Eagles Cowbell Night 2023
Having been the In-Arena Host for the Colorado Eagles since their 10th season, I'm extremely familiar with the magic that this one night brings to Eagles Country each year. With thousands of people ringing cowbells going absolutely insane for what is no doubt the loudest Colorado Eagles game of the year. It's Cowbell Night! How can you get your free cowbell this Friday during the Eagles' Annual Cowbell Night?
How Do I Get A Free Cowbell At The Eagles game?
This Friday, November 3rd, 2023, at the Colorado Eagles game at the Blue Arena, the first 2,000 fans in the gates will receive a free Colorado Eagles Cowbell courtesy of Dairy Max and Meadow Gold Dairy. Doors open up at 6 pm and the line will begin forming way before that. If you want to ensure you get a bell, I would plan on arriving early. With a high of 63 degrees outside, it'll be much warmer than it was just last year...
What's All Going On At The Colorado Eagles Cowbell Night?
Not only will you have a shot at this awesome burgundy and blue cowbell, but Meadow Gold is usually hooking up for free Chocolate Milk at the RainDance Tap, while supplies last, so make sure you pop by on your way into the arena to see if they've got the goods. There will also be a special cowbell auction happening at the RainDance Tap with a chance to bid on all of the cowbells from all 21 seasons.
Get there early, get your bell, and let's get loud for Cowbell Night this Friday, Eagles Fans!
Take a Look Inside a $1.3 Million Old Town Fort Collins Condo
If you want to live in the middle of the action that Old Town Fort Collins has to offer, you need to take a look at this condo located on Mountain Avenue.
Gallery Credit: Matt Sparx
Fort Collins' Most Expensive Home For Sale is 13,800 Square Feet
This is the most expensive home for sale in Fort Collins listed at $4.2 million.
Gallery Credit: Matt Sparx