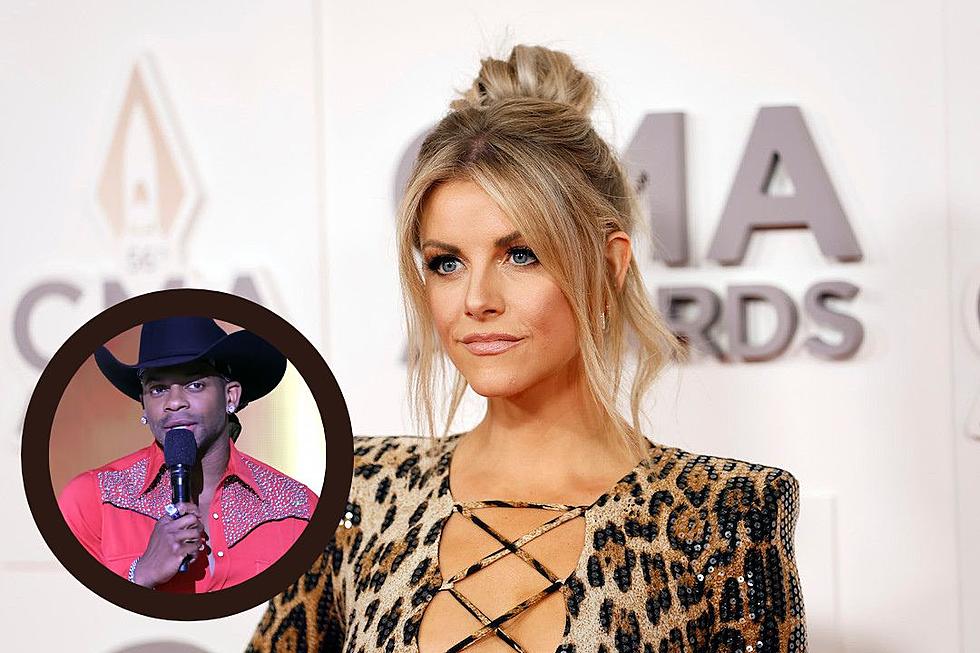 Lindsay Ell Speaks Out on Jimmie Allen Sexual Assault Allegations: 'I Stand Behind Jane Doe'
Jason Kempin, Kevin Winter, Getty Images
Lindsay Ell says she was shocked to learn about the sexual assault allegations against Jimmie Allen earlier in May, after Variety published an extensive report detailing a civil lawsuit leveled against the singer by a former member of his day-to-day team.
The woman, who identifies herself as Jane Doe in the lawsuit, is suing Allen for assault, sexual battery, false imprisonment, sex trafficking and emotional distress. She claims that he repeatedly raped her and subjected her to sexual abuse over a period of a year and a half.
Related: Jimmie Allen Accused of Rape and Sexual Assault in New Lawsuit
Ell — who was once a labelmate of Allen's on BBR Records, and joined him for "Tequila Talking," a duet off his Bettie James Gold Edition album in 2022 — was traveling when she first learned of the allegations against Allen, she recounts to Taste of Country.
"It was really, really heartbreaking to read that article. It was just like — 'This is crazy. This is crazy. It's hard to believe," she relates.
"I stand behind Jane Doe, as she is referred to in that article, in feeling like coming forward was what she needed to do, and sharing her story," Ell continues. "I hope it gives other survivors out there — whether they seek help or not — I hope it helps them through it."
Ell also hopes that stories like Jane Doe's will help to change the culture for the music industry in general, and create a zero-tolerance policy for sexual assault and harassment in industry organizations.
Jane Doe's lawsuit also accuses Allen's manager, Ash Bowers, and Bowers' management company, Wide Open Music, of gross negligence, participation in a venture engaged in sex trafficking and other charges.
Jane Doe says that Bowers and Wide Open Music knew that Allen was sexually harassing her, but required her to work with him anyway, and brushed aside her concerns on multiple occasions. In late 2022, she informed her employer of the physical assault, and Wide Open Music severed ties with Allen but also terminated her employment. (Bowers told Variety that Jane Doe's job no longer existed after Allen was no longer a Wide Open client).
Related: 12 Key Allegations From the Jimmie Allen Sexual Abuse Lawsuit
"It's so easy for an organization, like, even a management company, to be like, 'Don't worry about it. It's not that big of a deal.' It's easy to brush something off that is actually a very big deal," Ell asserts.
"[Open conversation about this issue] makes it not okay for sexual harassment to happen — in a work environment, in a personal environment, anywhere," she continues. "If a company hears that something may be going on, I hope we can create a culture and a society and an environment where that is not okay, and not tolerated. The minute that somebody is, even a little bit, like, 'Something needs to be done about this,' [the response shouldn't be], 'We're gonna sweep it under the rug.'"
The problem of sexual assault and harassment and the importance of supporting survivors are both causes close to Ell's heart. In 2020, she revealed that she was raped at the age of 13, and again at 21. In a song called "Make You," she shares her perspective on the first assault, discussing how it impacted her life, mental health and relationship with her body at various ages in her life.
Ell has since launched her Make You Movement, a charity that partners with organizations including the Rape, Abuse & Incest National Network to support survivors of domestic and sexual violence, as well as at-risk youth.
Allen has issued a statement through his attorneys, admitting to a sexual relationship with Jane Doe that he says was consensual and denying the allegations against him. Read his full statement here.
UPDATE: Lindsay Ell published the following reaction in response to Taste of Country's story:
Several subsequent stories from Ell's original interview are in process and were always part of the editorial plan.
Country Stars' Real Names Revealed
Learn the real names of nearly 50 country music singers and superstars.