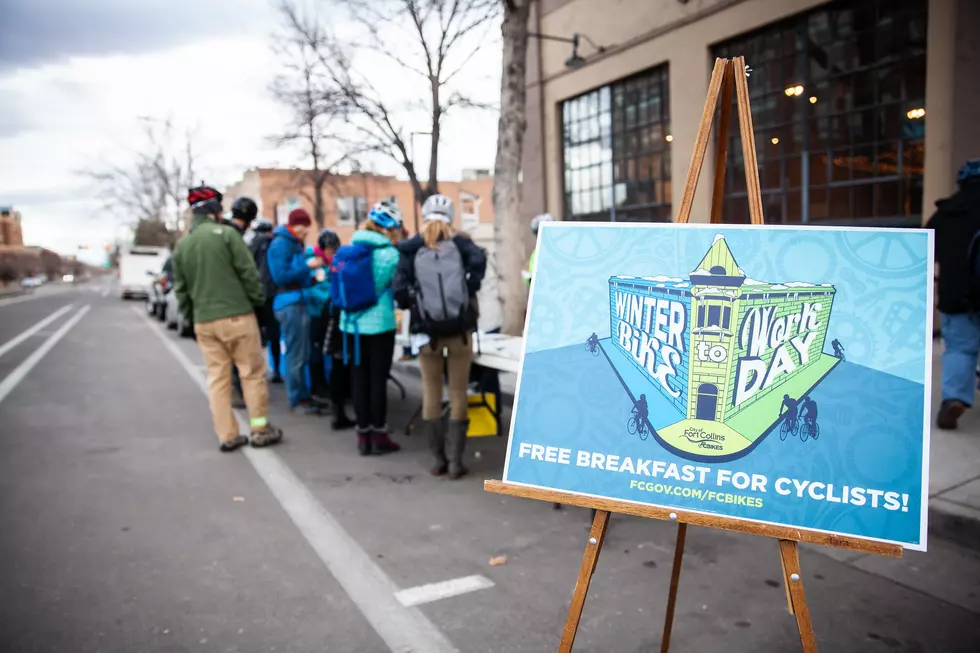 Free Breakfast if You Don't Drive to Work on February 10th in Fort Collins
City of Fort Collins/Winter Bike to Work 2018
Active modes of transportation can include walking, bicycling, scooting, or taking the bus. If you are not driving a vehicle, you will be rewarded with free breakfast and goodies at the Winter Bike to Work in Fort Collins.
Winter Bike to Work Day is happening on Friday, Feb. 10, from 7 a.m. to 9:30 a.m. This is an event the FC Moves has gotten really good at planning. The community feeling on the trails, in bike lanes, and at breakfast stops is fantastic.
'Bike to Work' is the title, but the goal is for people to realize how fun and easy it can be to get around without using a car no matter where you are going. Especially in Fort Collins which was "ranked third overall for its over 200 miles of bike lanes and its various other bike-friendly infrastructure" on a 'Surprisingly Bike-Friendly' Cities in the U.S. list recently and constantly finds a place on these kinds of lists.
These Bike to Work days are set up for all kinds of cyclists. It's a great day for beginners. There are even local bike mechanics set up at several stops who can check over your bike if it's needed. If bicycling isn't your thing, maybe this is the time you check out e-scooters available to rent in Fort Collins.
There is a super fancy Breakfast Station Map you can zoom in and out of to see exactly what breakfast stations are set up and where. This event is so well organized the breakfast stops on the map even list dietary options. There are actually 53 breakfast stations that will be set up across Fort Collins.
See the Must-Drive Roads in Every State