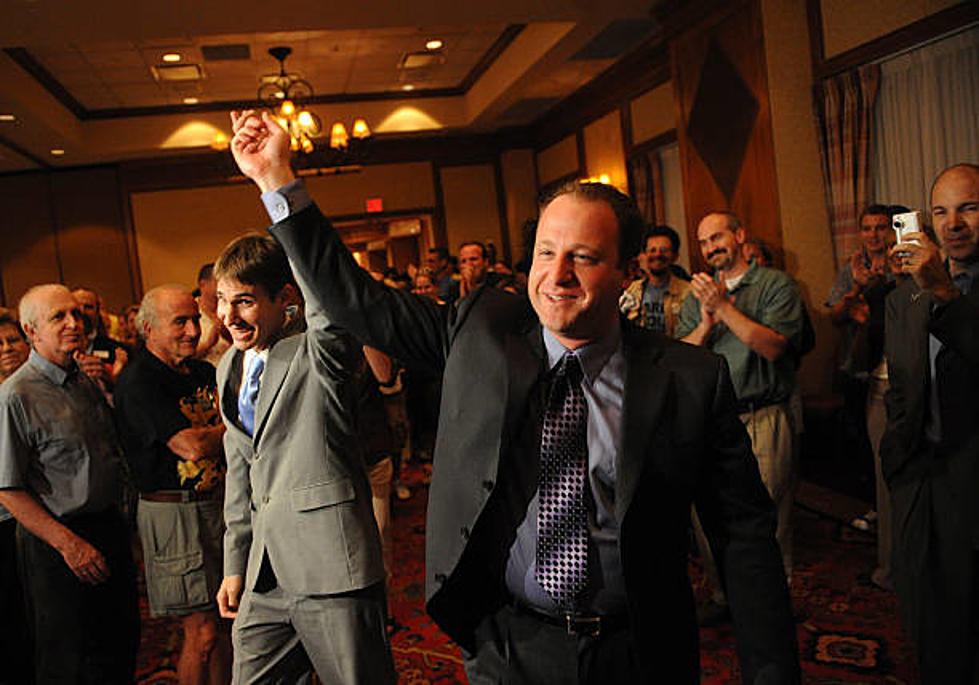 CO Governor Jared Polis Marries Longtime Partner Marlon Reis
Denver Post via Getty Images
Big congratulations are in order for Colorado Governor Jared Polis and his longtime partner, Marlon Reis.
The couple, who has been together for 18 years wed in a traditional Jewish ceremony on Wednesday (Sept. 15).
"The greatest lesson we have learned over the past eighteen months is that life as we know it can change in an instant. We are thankful for the health and wellbeing of our family and friends, and the opportunity to celebrate our life together as a married couple", the duo said in a joint statement posted to the Governor's Instagram page on Wednesday.
"After eighteen years, we couldn't be happier to be married at last."
Governor Polis, who is who is the first openly gay elected Governor in the country, popped the big question back in December 2020 while Reis - a writer and animal rights advocate - was fighting COVID-19.
Ironically, the Governor couldn't have asked Reis to marry him at a worse time (although, ultimately, everything went according to plan).
As his partner's COVID-19 conditions continued to deteriorate for more than a week, Reis' doctors ordered him to check into a hospital for further treatment.
In the midst of tears, fear, and chaos, that's when it happened - Governor Polis dropped down on one knee and asked his longtime partner for his hand in marriage... and he said yes.
If that's not true love, I don't know what is.
The newly married couple was surrounded by close family and friends during their small, outdoor ceremony in Boulder earlier this week. Rabbi Tirzah Firestone officiated the intimate gathering, as per reports from the Governor's office.
The couple has two young children, ages 7 and 9.
Mazel Tov (congratulations) to the newlyweds! We wish you and your family a lifetime of happiness.
20 Awesome Movies Filmed in Colorado
I had no idea how many tremendous movies that I watched growing up were filmed right here in Colorado. While I didn't grow up here, I am loving calling Colorado home, and knowing that so many great movies were filmed here just makes me love this state even more.
Don't Complain: 20 Compelling Reasons We're Lucky To Live in Colorado
They say the grass is greener on the other side of the fence - or at least it appears that way. It is so easy for people who have lived in Colorado a long time to lose sight of all the great things about Colorado. So, with that in my mind, I offer these 20 compelling reasons why we are so lucky to live in Colorado.