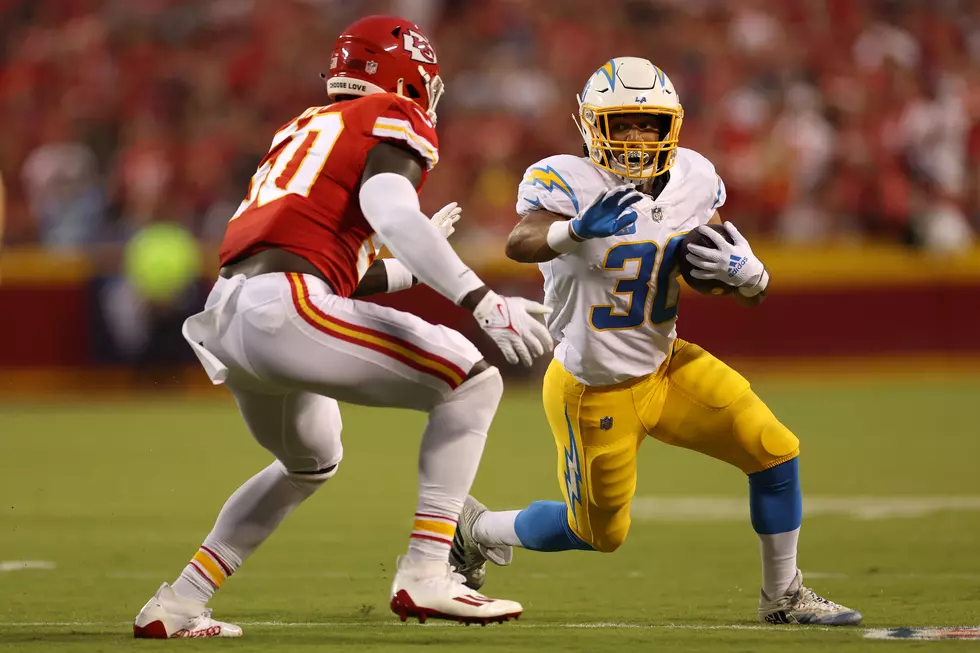 What is Northern Colorado Football Star Austin Ekeler Up To Now?
Getty Images
Austin Ekeler is only 27 years old, but the northern Colorado native is on the road to major success on his current path in the NFL.
Ekeler graduated from Eaton High School in 2013. During his high school years, he was an All-conference and All-state athlete in both football and track. By the time he finished high school, he recorded 2,398 yards rushing, 42 touchdowns, and averaged 10.16 yards per carry. The talented student also played basketball as a teenager.
Ekeler continued his athletic career while attending Western State University in Gunnison, where he starred as the football team's running back from 2013 to 2016. Even during his freshman year, Ekeler led the team with 1,049 rushing yards to go along with seven rushing touchdowns.
Upon graduating college, five-foot-nine Ekeler signed as a free agent with the Chargers in April 2017. In week four of the regular season, he had his first NFL career touchdown in a game against the Philadelphia Eagles. Ekeler finished his rookie season with 260 rushing yards, two rushing touchdowns, 27 receptions, 279 receiving yards, and three receiving touchdowns.
His achievements carried into the 2019 season, where he finished with 557 rushing yards and three rushing touchdowns to go along with 92 receptions for 993 receiving yards and eight receiving touchdowns.
In March 2020, the running back agreed to a four-year, $24.5 million deal with the Los Angeles Chargers. The contract also included a $6 million signing bonus. In 2022, Ekeler will earn a base salary of $5.5 million, while carrying a cap hit of $7 million and a dead cap value of $4.25 million.
Ekeler shined in 2021, with 20 total touchdowns. He's only one of two players in Chargers franchise history to score that many touchdowns in a single season.
During Thursday night's loss to the Chiefs, Ekeler only rushed for 39 yards on 14 carries but also had 55 yards on nine receptions for a total of 94 yards from scrimmage. Despite the team coming up short, Ekeler himself is on track to have another triumphant year with the Chargers.
His younger brother, Wyatt Ekeler, currently plays football for the University of Wyoming and is another Colorado native to watch for in the upcoming years.
The Ten Best Moments in Denver, Colorado Professional Sports History
From the Denver Broncos to the Colorado Rockies, or the Denver Nuggets to the Colorado Avalanche, these are the Best Denver Sports Memories of the last 40 or so years.