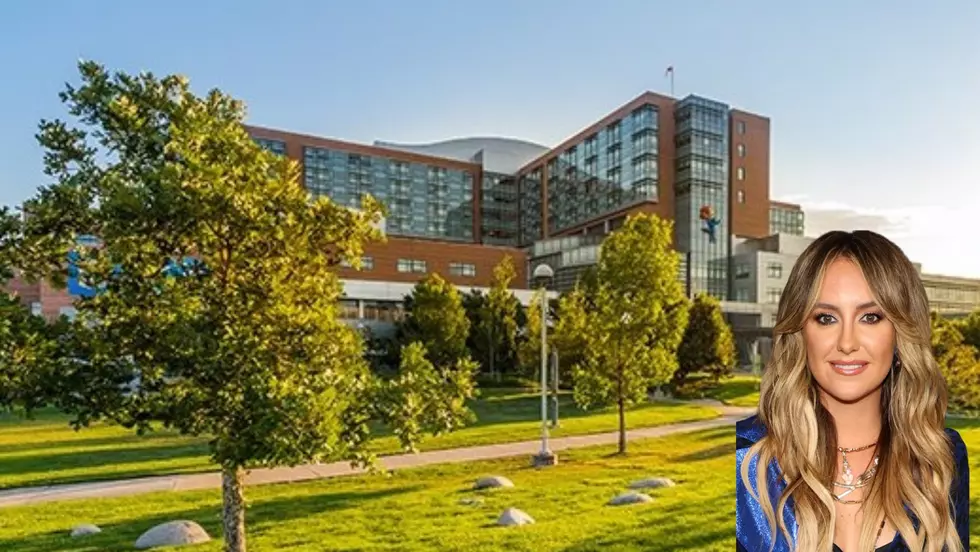 WATCH: Lainey Wilson Pays Heartwarming Visit To Children's Hospital Colorado
Canva
It's a big week for Lainey Wilson.
The rising country star is set to receive quite an honor later this week  - that honor? Being officially named and awarded CMT's Breakout Artist of the Year during the 2022 CMT Artists of the Year Awards in Nashville, TN this Friday night (Oct. 14).
In the midst of her big week, however, Lainey's taken to socials to share an incredible experience she just had at Children's Hospital Colorado. 
"Hey, Y'all, it's Lainey Wilson, and I just got finished visiting Seacrest Studios. This experience today was one of my favorite experiences so far that I have had in an 11-year career of being in Nashville trying to do this," Lainey says in her Instagram video.
"Moments like today remind me why the Lord even gave me this gift, and it's to share it with people who need me and music."
During her visit to Children's Hospital Colorado, Lainey spent time meeting and posing for photos with children and even performed a live rendition of her latest single "Heart Like A Truck".
The visit was set up in partnership with the Ryan Seacrest Foundation, whose prime initiative is to create broadcast media centers within pediatric hospitals for children undergoing treatment. The organization hopes patients use Seacrest Studios - like the one located in Children's Colorado - as a creative outlet and serves as an "uplifting spirit" during challenging times.
"I'll tell you that... these kids have hearts like trucks... Spending time at the @ryanfoundation location at @childrenscolo last week reminded me of the power of music and brought my heart so much joy. Thanks for having me. I hope to be back again soon!", Lainey shared in a heartwarming Instagram post following her visit to Children's.
About Children's Hosptial Colorado
Children's Hospital Colorado in Aurora, CO is a part of Children's Miracle Network Hospitals; It is one of the top children's hospitals in the nation, treating kids across Colorado and the west.
Children's Colorado sees more, treats more, and heals more kids than any hospital across the hospital's seven-state region.
The hospital provides comprehensive medical care for kids from birth through adolescence and, in addition to being the only pediatric Level 1 Trauma Center in the region, Children's Colorado treats virtually all conditions that affect children.
About The Ryan Seacrest Foundation
The Ryan Seacrest Foundation (RSF) is a non-profit 501(c)(3) organization dedicated to inspiring today's youth through entertainment and education-focused initiatives.
The non-profit's primary initiative is to build broadcast media centers within pediatric hospitals for patients to explore the creative realms of radio, television, and new media. The Ryan Seacrest Foundation's aim is to contribute positively to the healing process for children and their families during their stay by developing these centers to bring an uplifting spirit to the hospital community.
LOOK: The 10 Best Places To Raise A Family In Colorado
Finding the best - and right - place to live might require some give and take... but who says you have to give all of your wants up in order to compromise for your needs? (Not us.)
According to
Niche
, these are the best places to raise a family in Colorado in 2022:
LOOK: These Are The 10 Best Zip Codes To Live In Colorado
Sure, there are many great places to live in Colorado - but they all can't be the best.
From rural to suburban to city living, Colorado has a little something for everyone; it's part of what draws people here to the state (and keeps natives living here, too).
Want to know where some of the best places to live in the state are? Keep scrolling to check out the 10 best zip codes to live in Colorado in 2022, according to
Niche: