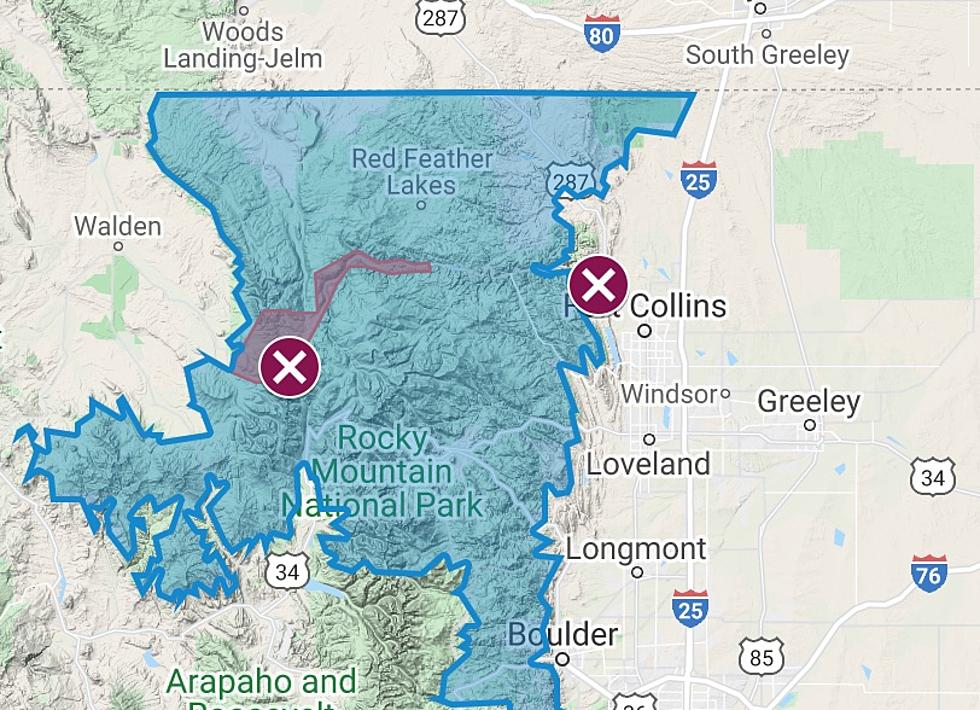 UPDATE: 1 Person Dead, 2 Missing Due To Flooding In Poudre Canyon
Larimer.org/Google Maps
One person has been confirmed dead and two others are believed to be missing following the major flooding that swept through Poudre Canyon on Tuesday (July 20), as per a Facebook post from Larimer County Sheriff Justin Smith.
According to Smith's Facebook post, Larimer County Sheriff's Office officials are working from reports of three individuals that were unaccounted for following the flooding.
Smith reported that the Larimer County's Sheriff's Office did locate a deceased victim in the affected area, but crews were unable to recover the body Tuesday night. Operations to recover the victim's body are to resume Wednesday (July 21).
In addition to the one victim whose body has already been located, officials also believe there may be two more people still missing from Tuesday's flooding.
"Our deepest sympathy goes out to the yet-unidentified victim of this flooding and their family along with any other potential victims yet to be located," Smith said in the post.
The first mandatory evacuations from the Larimer County's Sheriff's Office (LCSO) were issued at 7:45 p.m. on Tuesday night in a tweet via LCSO's Twitter page. The alert warned residents of immediate and imminent danger and ordered them to leave the area as quickly as possible.
Mandatory evacuations in Poudre Canyon were then lifted late Tuesday night, allowing residents to return to the area.
"I personally witnessed significant debris and damage in the area, caused by downed trees, damaged and destroyed homes and mudflow in the area," Smith said in his Facebook post.
According to a travel alert from the Colorado Department of Transportation (CDOT), as of Wednesday (July 21) at 8 a.m., several roadways are affected by mudslides and flooding. These roads include:
Colorado Highway 14 - Poudre Canyon
Interstate 70 in Glenwood Canyon
Colorado Highway 133
CO 14 remains closed in both directions through Poudre Canyon on due to severe flooding and multiple slides. The closure is in place between Rustic (MP 92) and Cameron Pass (MP 66). CDOT crews hope to have the roadway open by Wednesday evening. As per CDOT, motorists should use an alternate route.
On I-70 in Glenwood Canyon, crews are working to clear five mudslides and will be assessing weather patterns throughout the day.
Three of the five mudslides are located on eastbound I-70 at Mile Points 127.5- 128.5 as well as a westbound mudslide from MP 130.5 to Exit 129 (Bair Ranch).
In addition, there was a mudslide reported on the Bair Ranch exit off-ramp from the westbound lanes. Due to there being a greater than 30% chance of a Flash Flood Watch or Flash Flood Warning Wednesday for the Grizzly Creek Fire burn area, safety closures will remain in place as needed to ensure motorists' safety.
The closure remains in place at Exits 87, 116 and 133, as of Wednesday morning. Motorists are encouraged to use the northern alternate route as a detour.
As for CO 133, the road is open at Mile Point 53 with one lane of alternating traffic. Motorists should plan for delays as crews clear up to eight feet of mud from the roadway, as three mudslides took place in the area on Tuesday (July 20).
To view a map of the affected area, click here. 
In addition, the Larimer County Sheriff's Office has set up a Joint Information Center for residents who have been affected by these floods. To contact the information center, call 970-980-2500.
5 Things To Do In Poudre Canyon
10 Things You Should Never Say to Someone From Fort Collins