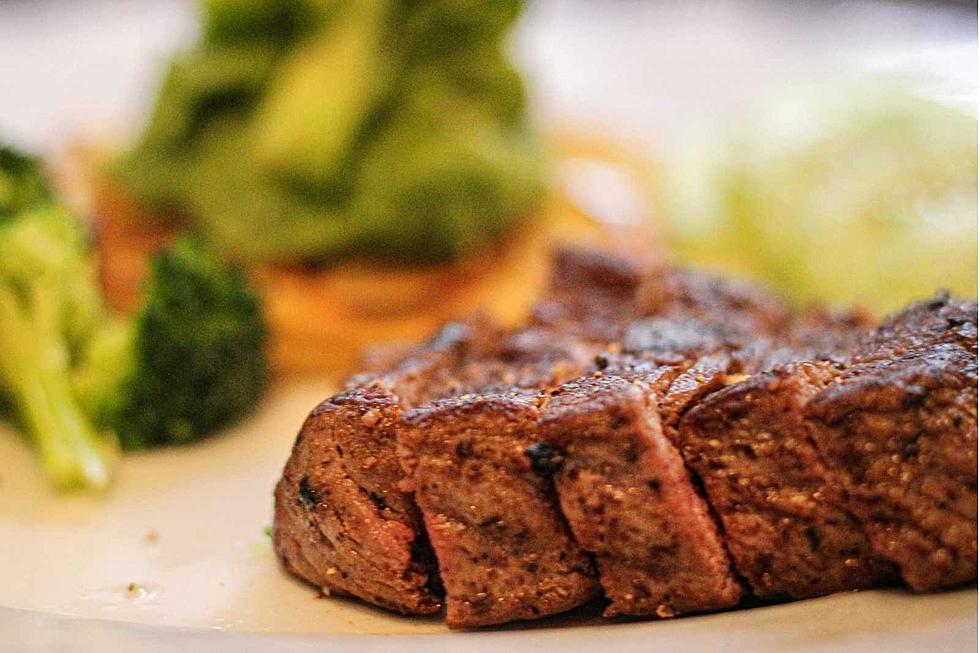 The 6 Biggest Steaks You'll Find In Loveland, and 1 Very Large Cut of Prime Rib
Thanti Riess on Unsplash
Somedays there's just nothing better than a beautiful, tasty steak. What can make that steak even better, is if it's a big steak, cooked by someone else.
The sound of the sizzle, the smell of the beef having just come off of a grill, a baked potato on the side. A great steak will awaken all of your senses, I know that I do not go out for steak in Loveland, Colorado, often enough; I need to treat myself more.
When it comes to which Loveland restaurants have the biggest steaks, we have a list of six. Three tie for fourth place, along with three others. They are all great restaurants, without question, and it really doesn't matter how big of a steak you actually get, as long as it's cooked to your liking and you enjoy it.
THE 6 BIGGEST STEAKS IN LOVELAND
#4 (Tie) The Boot Grill
The Boot Grill has a 12 oz. ribeye that's fantastic. The Boot has a great atmosphere to enjoy a 'western' meal, as well. May I recommend a Coors Banquet beer to go along with your ribeye?
#4 (Tie)  Henry's Pub
Henry's Pub has a wonderful 12 oz. New York Strip. In the heart of Downtown Loveland on 4th Street, Henry's brings the perfect 'vibe' for having a great steak.
#4 (Tie) Rock Bottom 
Rock Bottom at The Promenade Shops at Centerra offers up a 12 oz. ribeye that comes with that awesome jalapeño butter. You know I'm a big fan of Rock Bottom, I'm glad the made 'the cut.'
THE 3RD BIGGEST STEAK IN LOVELAND
You really can't go more 'Loveland' than The Black Steer, many will agree. They've been open for years and years, and have a great menu including THREE 14 oz. steaks: Their ribeye, their New York Strip, and their T-Bone. Choose wisely, my friends.
THE 2ND BIGGEST STEAK IN LOVELAND
Coming in at 16 oz. is Pourhouse's 'Cowboy' Ribeye. I'll tell you this: If you put 'Cowboy' in front of any food menu item, I'm in. Pourhouse is a cool place, too.
Before we get to the biggest steak in Loveland, we need to highlight the biggest cut of prime rib you can get in Loveland. We had several conversations debating whether prime rib is a steak, and though The Boot Grill lists their prime rib under 'Steaks,' the consensus was 'prime rib is a roast, not a steak.'
The Boot Grill's award-winning prime rib comes in three different cuts including the whopping 24 oz. 'Biggin.' It does look delicious. Plus, you get a free t-shirt if you finish it all.
All of this talk about steaks has definitely made me hungry. How about you? Drumroll please....
THE BIGGEST STEAK IN LOVELAND
I don't many will find it too surprising that Loveland Chophouse has the town's largest steak option. It's another 'Cowboy' cut... Their 'Cowboy Cut' ribeye weighs in at 18 oz. When you enter the establishment you already know that you about to spend some serious money, but you really need to watch out when they list this steak costing 'Market Price.' Yikes.
Like I said, they are all great restaurants with great steaks. Have fun getting out there and getting your steak on.
More Loveland Food: Inside Loveland's Newest Pizza Joint
The corner of 4th Street and Cleveland in Downtown is now home to a new pizza place.
Fort Collins Restaurants - 30 of Them That Are Still Missed Around Town