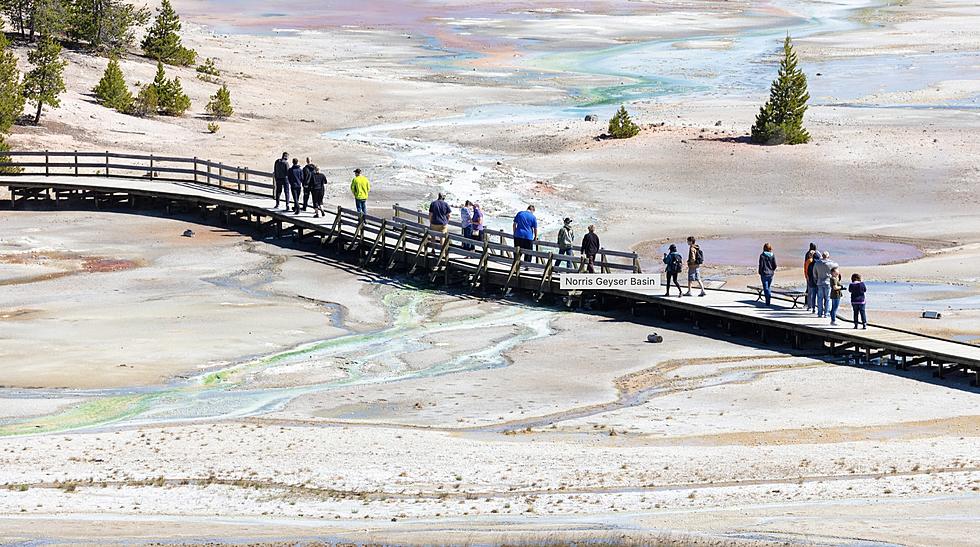 New Yorker Charged With Yellowstone Violations
People exploring the sights in Norris Geyser Basin NPS / Jacob W. Frank
A New York resident allegedly walked into a thermal area and damaged a natural formation at Yellowstone National Park, according to an indictment filed in U.S. District Court on Friday.
Wyoming U.S. Attorney's Office spokeswoman Lori Hogan confirmed that defendant Cory L. Skinner is from New York, but did not have details beyond those mentioned in the indictment.
Skinner probably will hear the charges at his initial appearance before U.S. Magistrate Judge Stephanie Hambrick at the federal courthouse in Mammoth, Wyoming, on Monday, Hogan said.
The government will seek to detain him, according to the indictment.
Both alleged violations occurred at the Wyoming national park on April 12.
Skinner is charged with:
 "... knowingly and unlawfully enter a thermal area, to wit: Old Faithful District on the Path to the Upper Geyser Basin."
"... knowingly and unlawfully possess, destroy, injure, remove, dig, or disturb from its natural state a mineral resource or cave formation or the parts thereof."
Regarding trespassing in a thermal area, the first count says Yellowstone National Park requires "foot travel in all thermal areas and within the Yellowstone Canyon between the Upper Falls and Inspiration Point must be confined to boardwalks or trails that are maintained for such travel and are marked by official signs."
Both offenses are punishable by up to six months in jail and a $5,000 fine.
This case is reminiscent of an incident in May 2016 when a group of men with a Vancouver, B.C.-based company called "High on Life" walked on the Grand Prismatic Spring. Like Skinner, they were charged with violating the rule requiring them to stay on designated boardwalks or trails.
Three of them paid thousands of dollars in fines and were banned from federal lands for five years after they pleaded guilty to crimes related to walking on the Grand Prismatic Spring in Yellowstone National Park in May 2016.
Two of them spent time in jail.
Two years later, two of them died while trying to rescue a woman who had fallen into a pool at the third-called waterfall in British Columbia.
Later that same year the High on Life men walked on the Grand Prismatic Spring, a 23-year-old Portland, Oregon, man was looking to "hot pot," or soak in a thermal spring, fell in, and died.
Authorities found only a few personal effects, but no bodily remains in the very hot, highly acidic spring.
LOOK: Here are the states where you are most likely to hit an animal
Hitting an animal while driving is a frightening experience, and this list ranks all 50 states in order of the likelihood of such incidents happening, in addition to providing tips on how to avoid them.
States with the most registered hunters
Stacker
analyzed data from the U.S. Fish and Wildlife Service to determine which states have the most registered hunters. Read on to see how your state ranks on Stacker's list.