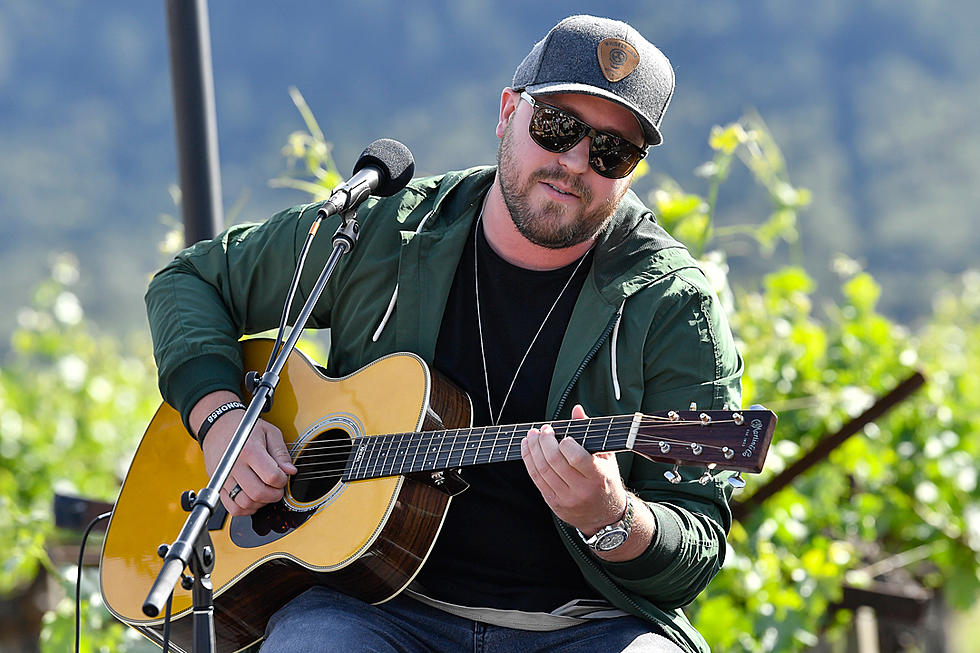 Hurts So Good: Why Mitchell Tenpenny's Heartbreak Is So Much Fun
Steve Jennings, Getty Images
Mitchell Tenpenny's heart breaks and everyone's dancing, but it's fine. That's by design. The "Drunk Me" singer isn't so much a songwriter as he is a songmaker, intentionally tempting you with candy so you'll discover his dark, dark secrets on your own.
Telling All My Secrets is a heartbreak album, he says. "One girl broke my heart. I broke one girl's heart. There's a bunch of different elements in there," the native Nashvillian says from a chair at his publicist's office on Nashville's West End.
There's also the album's closer, "Walk Like Him" — a heartbreaking eulogy for his late father who died of a rare form of cancer in 2015. That song is not a feel-good jam, but much of Tenpenny's debut album — even the song that was hardest to write and record — sounds like a party. Therein lies his gift.
"These are the most vulnerable songs on the record, and that's what I wanted to do with this ... it's telling all my secrets," Tenpenny says. In a few hours he'll drive across town to play these songs for fans and industry at City Winery, so a mix of anxiety and excitement fills the air around him, controlling his fidgets and shifts. There's no hesitation as he explores these songs deeper, however. That was, after all, his intention at the beginning.
"I remember I got up and just walked out the door. Went and drove around and just cried for a minute, like "When's my dad gonna die?"
"These are things that I didn't necessarily do right. People that I didn't treat the best growing up, when I was stupid. I wanted to be honest about that because I think a lot of people hold that inside."
Tenpenny first gained recognition when he co-wrote "If the Boot Fits" for Granger Smith and was invited out on tour with the star. His grandmother, a longtime Music City executive, was as influential as any artist or performer. His focus and professionalism was born out of watching her balance business with pleasure — the 29-year-old will school you on the value of having a great team and not wasting opportunities.
Now in a healthy relationship with the current No. 1 song on the radio and an album worthy of any year-end list, Tenpenny is ready to party, but he's got a heck of a lot of work to do before year's end. He will treat himself. No, the LeBron James 11 Fruity Pebbles sneakers he has on his feet are not his vice. His splurges are much more professional, practical and ... shiny.
Who do you get compared to?
A lot of Zac Brown or country John Mayer, which ... both are way better than me and incredible, so I don't really know how to take that, but I definitely love both of them and have played their music a lot, so I can hear why some of their influences might be there.
I hear John Mayer a lot. Did you listen to him a lot growing up?
Oh, all the time. I wore his CDs out. I learned to play guitar just playing his records. I bought all his signature model guitars to try to get that tone.
From a songwriting standpoint, a lot of songs on this album feel personal but are accessible. That's something Mayer does really well.
That's the goal. I wanted someone to find their song on this record. Whenever I listen to a record I'm like, "Which one is going to be my song," you know? So I wanted it to be broad and be honest and hopefully someone can put their story in mine.
Lyrically it's very dark. There's a ton of heartbreak, but sonically, it's very bright.
What captures me first as a songwriter is the music and the melodies. Then once I dive into the groove, I start listening to lyrics. I wanted to capture someone's ear and then give you the opportunity to listen back again and hear what I'm actually trying to say. I think that's why pop music and rock music and rap works so well. I think the first thing you hear is that groove, that initial air moving and then you have the chance to sit down. It's formulated like that for a reason. I want you to fall in love with this song and then fall in love with what it's saying.
What were some of the hardest song to include on this album?
There's a song called "Somebody Ain't You" on there. It's like even though you want it so bad, even though everything is perfect on paper, they're still not that person that's so toxic ... that person that didn't work out and you know why you broke up with them and you're in this perfect new relationship but you know there's something there. The chorus goes "Why does it feel like I'm lying every time I tell the truth." You're looking them in the eye saying "I love you," but you're still thinking about that other person. That was a tough song to write because my last relationship was like that.
"Walk Like Him" is the song people are responding to. How much did you have to prepare yourself for that? Because you're not just telling your story, you're making yourself available to hear other people's stories and that can be painful.
It took a second. Even doing the interviews and everything took a second because I never want to use my dad for anything, but at the same time I wouldn't be here without him, and that song just kind of came out of that. I was driving two years later in my van, driving down the road after a show and they're all asleep in the back and something about that loneliness is when it all just hit me that my father's gone ... and that title "Walk Like Him" came in my head.
Did your dad's death have a big impact on your career? 
I remember I was in college and I came home like I did on a lot of weekends, to write, because I went to MTSU. And he just told me, "Sit down." I remember I got up and just walked out the door. Went and drove around and just cried for a minute, like "When's my dad gonna die?" I think that puts perspective instantly on goals, how fast you want to achieve something. Even thought you have no control of that you just gotta put your head down and work. And my dad did a great job of that. Anything that happened to him, or anything bad, he never let anyone know. So it was never in the forefront. My mom and dad always kept us optimistic about it until the very last days, so I just got to enjoy the time I had with him and still focus on my career and he let me do both things.
Now that you have your own No. 1 hit, what's the big dumb thing you're going to spend money on?
I've been really stupid on watches the last couple of years and have been wanting a new one, so probably a watch. It's dumb but if you find the right ones it's an investment, that's how I justify it (laughs).
How much is too much to spend on a watch?
I can't give you that answer (laughs). It's all relative.
Hold On, Mitchell! We've Got One Last Question!