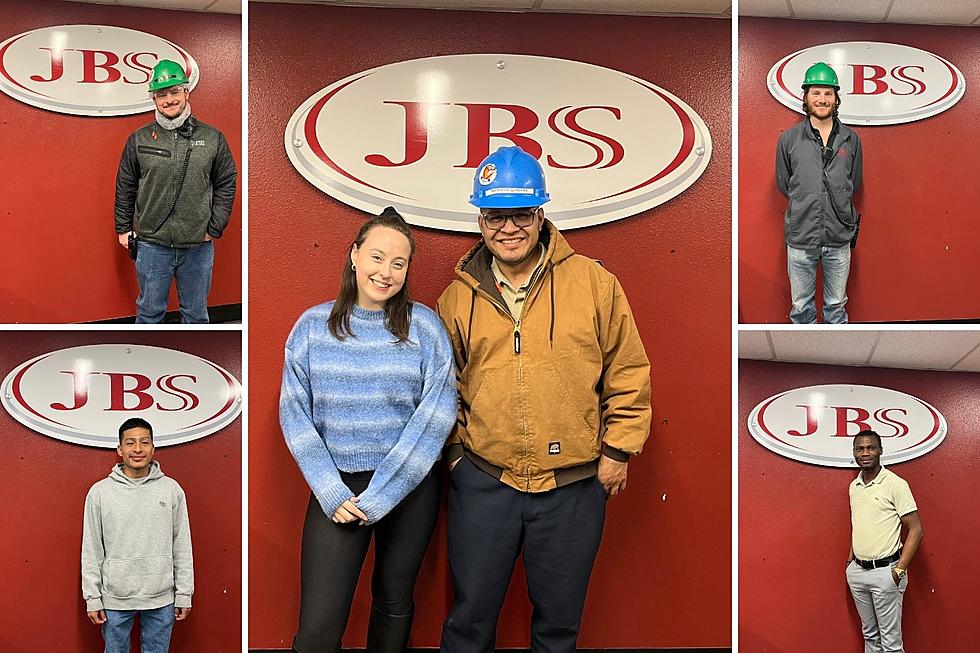 Allow Maxx to Introduce You to Some of the Hard-Working Staff at JBS Greeley
Townsquare Media
I recently got to meet some of the outstanding individuals who work here at JBS Greeley, and it was incredibly obvious to see just how passionate and proud they were (and are) to be working at JBS.
Words that were brought up time and time again throughout each conversation include "opportunity", "diversity", "respect", "determination" and "family." In their own ways, everyone who I had the opportunity to speak with at JBS Greeley has been able to reach new heights in both their work and personal lives due to the unparalleled opportunities provided for workers at JBS. Let me share some of their stories:
William Velasquez 
Time With JBS: 6 months
Growing up in Greeley, William always heard about JBS. When he was 19, and still in school, his dad convinced him to take on a summer job at JBS in Greeley. After spending three summer months at JBS, William graduated from college and decided he wanted to pursue a career at JBS Greeley. 
For William, this was a no-brainer – the support he constantly receives from his coworkers keeps him going. He loves that there is always something new to learn on the job and that there are always new and bigger opportunities to be had.
On a larger scale, JBS has taught William the true meaning of responsibility. At just 22, William has been able to buy his very first home – and that's just one of the many things that makes William Velasquez JBS proud. 
Edmond Ebah 
Time With JBS: 4 years
In 2016, Edmond – who is from West Africa – obtained a visa and moved to America in April 2017. While living and working as a grocery clerk in Missouri, Edmond heard about JBS and decided to make the move to Colorado to begin a career with them. 
Financial growth and opportunity were what ultimately brought Edmond to JBS Greeley – but Edmond's experience working at JBS has brought him more than he could've ever imagined. 
Everybody has the opportunity to grow at JBS – like Edmond, who has earned promotions on multiple occasions for his hard work, good attitude, and passion to help those around him succeed as he has at JBS. Moving across the world to begin a brand new life can be scary for many reasons, but to Edmond, JBS feels like home. 
The diversity in the workplace, the fact that everyone is accepted at JBS – no matter what walk of life you come from – are just a few of the many things that makes Edmond Ebah JBS proud.
Marcelo Conchas
Time With JBS: 16 years
Marcelo, who is from Mexico, heard about JBS from a friend and decided to apply for a job with JBS Greeley. Just a day after applying, Marcelo heard back and made the move to America to start working with JBS almost immediately. 
Leaving all your friends and family behind to begin a new life in a new country is hard. But Marcelo was looking for work – and he found so much more than that since starting at JBS Greeley in 2006.
Over 16 years, Marcelo has found a community that genuinely supports him. In turn, Marcelo has been able to work his way up at JBS, enough to be able to move his family out to Colorado and even buy his son a car for his 16th birthday. 
Marcelo says it's all thanks to JBS Greeley. Constant support, the opportunity to grow and build a great life – these are just some of the many things that make Marcelo Conchas JBS proud.
Jimmy Sias 
Time With JBS: 6 years
Born and raised in Texas, Jimmy was studying at Texas Tech University when he landed an internship at one of JBS's Texas plants. One internship turned into multiple internships, until Jimmy decided to enter their Management Trainee Program.
Walking into JBS Greeley for the very first time, Jimmy knew nothing except that he was ready to learn, and in 6 years, Jimmy has learned more than he could have ever imagined. 
Jimmy loves working at JBS because of the ever-changing dynamic of the industry and his job (no two days are the same!) and the responsibilities and rewards that come with it, including financial freedom.
Above all, Jimmy says that it's the JBS culture – the constant support from both coworkers and supervisors, along with the abundance of opportunity to grow within any given role that makes Jimmy Sias JBS proud.
Vinny Depieri
Time With JBS: 9 Years
Born and raised in Brazil, Vinny's grandpa used to sell cattle for JBS – and Vinny always used to follow him around, growing interested in the work that his Grandpa did. 
One tour of the JBS facilities has Vinny completely sold. He knew he wanted to begin a career with JBS after graduating from college. He started as a JBS intern in Brazil and had a brief stint with JBS Canada before moving to Colorado to work with JBS Greeley in 2018.
Much of his family and friends still live in Brazil, but over the years, Vinny's JBS coworkers have become family. 
When describing a JBS worker in three words, Vinny said: "Passionate." "Discipline." "Determination." While his job is to manage others, it's the constant support and dedication from his coworkers that makes Vinny Depieri JBS proud.
As you can see, JBS employees innovate together to advance the quality of their foods every day. They achieve such a high standard by:
Staying determined, sincere, and humble
Developing local leadership with a global perspective
Committing to strong ethics and compliance programs
Their team members are from all around the globe, but they all found opportunity here. To explore careers at JBS, visit jbsfoodsgroup.com.