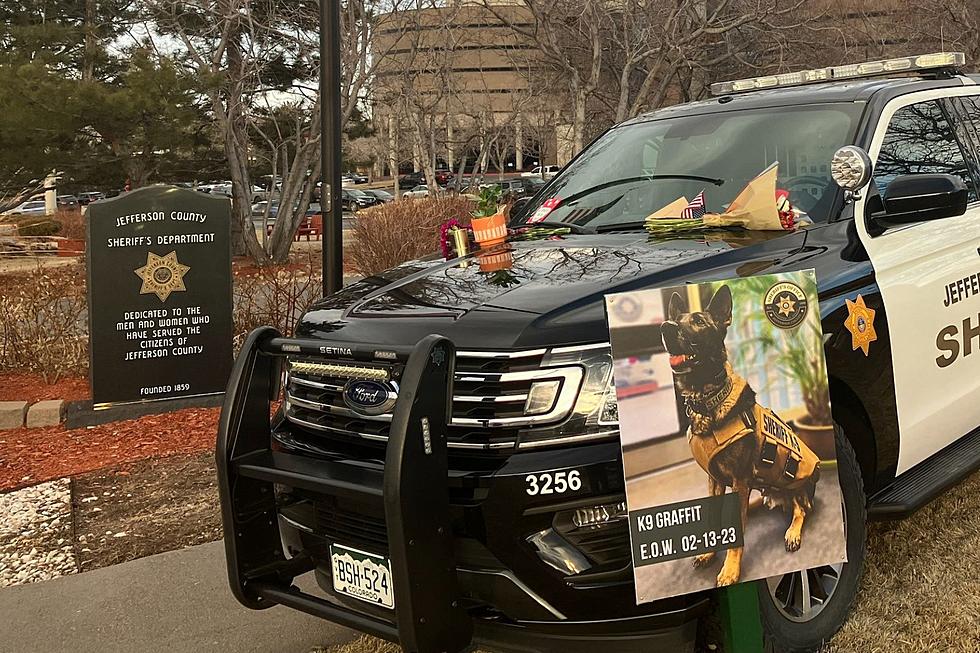 WATCH: Colorado State University Honors Beloved Fallen K9 With Procession
Jefferson County Sheriff's Office // Facebook
Colorado State University has honored fallen K9 Officer Graffit in a heartwarming way.
Denver7 reports that K9 Graffit, an officer with the Jefferson County Sheriff's Office (JCSO), lost his life on Monday (Feb. 13) during an investigation in Golden.
According to the station, the incident occurred around 12:15 in the morning when police learned that a driver kept passing out and swerving into traffic.
Officers attempted to approach the driver, but he escaped and headed towards the Colorado School of Mines campus, allegedly brandishing a handgun.
About an hour later, JCSO dispatched K9 units, and K9 Graffit located the suspect near 19th Street and W. 6th Ave. An exchange of gunfire began, striking K9 Graffit; unfortunately, he died at the scene.
Thankfully, CSU was able to give K9 Graffit a proper goodbye on Thursday (Feb. 16) with a formal procession. Police escorted the K9, draped in an American flag, to the CSU Veterinary Teaching Hospital for a post-mortem examination.
CSU alum and Olympic champion Amy Van Dyken commented on the event, thanking K9 Graffit for his service and calling him a "sweet boy."
Jefferson County revealed that K9 Graffit had worked with JCSO in narcotics detection since 2015 and remembered him as a "hard working canine' that "always gave 110%."
"He gave his life to protect the lives of his handler and the other officers on scene. RIP, good boy," said the county.
CBS Colorado notes that the suspect, identified as 29-year-old Eduardo Armando Romero, is facing charges for past active warrants and new ones, including Felony Manacing, Aggravated Animal Cruelty, and Prohibited Use of a Weapon.
Northern Colorado Law Enforcement K-9 Dogs
PHOTOS: Worst Northern Colorado Crashes In Last 5 Years