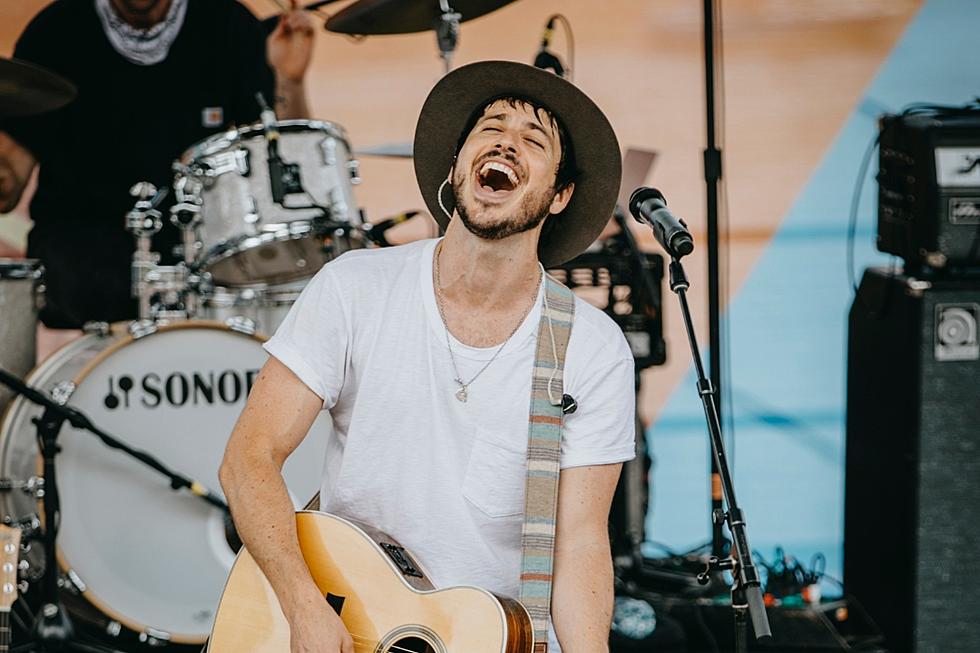 Morgan Evans' 'All Right Here' Is About Celebrating Life's Best Moments [Listen]
Danielle Del Valle, Getty Images
Morgan Evans has dropped his new Life Upside Down EP, and it features a jubilant singalong song called "All Right Here."
Evans co-wrote the track with Casey Brown, Geoff Warburton and Parker Welling. "All Right Here" is all about living in the present and celebrating all that's going well in life.
"Everything's all right here / Yeah we got it all right here / All the saints, all the sinners, all the red dust kickers, all the flip cup tippers sipping ice-cold beer / All night long / Singing them country songs / In a world where a whole lot of things go wrong / They're going all right here," Evans sings in the buoyant chorus over upbeat guitar chords and cheery backing vocals.
Unlike his previously released songs, the two new tracks on Evans' EP, "All Right Here" and "Hey Little Mama," feature a more upbeat, summer-ready production and light-hearted lyrics as opposed to his more ruminative, post-divorce tunes like "Over for You."
Of his new EP, Evans shares, "I called the EP Life Upside Down because this collection of music could only have come from this time, when my life felt exactly that. To me, these five tracks journey through unexpected heartbreak, self-rediscovery, new beginnings and a newfound gratitude for the present moment."
Evans' Life Upside Down EP features his single, "Over for You," as well as earlier releases "On My Own Again" and a live version of "Over for You" recorded in Melbourne.
On the tour front, the Australian-born singer is currently on the road opening for Brett Young on his 5 Tour 3 2 1 tour. After which, he will join Billy Currington on select dates of his upcoming tour.
8 Brutally Honest Divorce Lyrics From Kelsea Ballerini's 'Rolling Up the Welcome Mat' EP
Kelsea Balerini opened up her divorce diary in February 2023 with her Rolling Up the Welcome Mat EP, a project that follows the stages of a breakup — from grief and loneliness to anger to acceptance — in chronological order. Here are eight of the most revealing lyrics from the project.