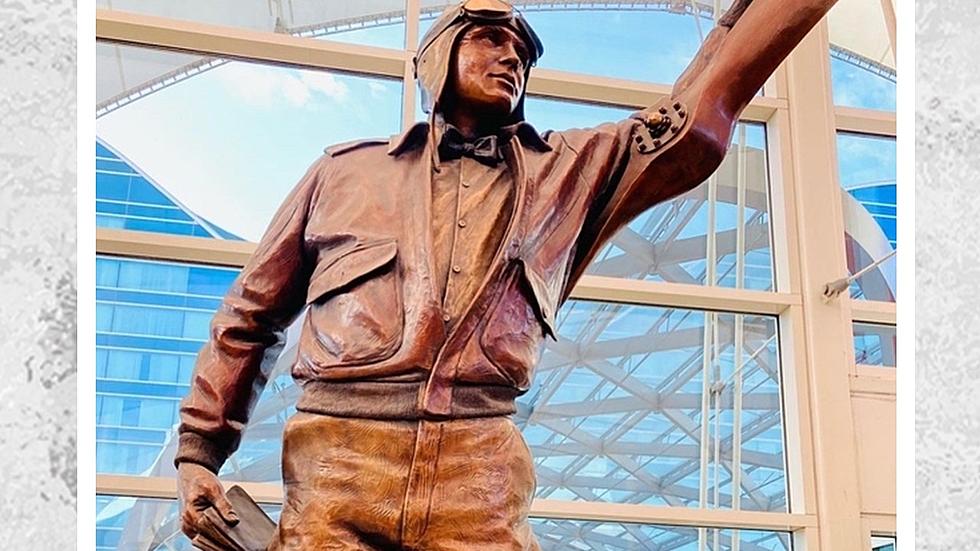 DIA Has a Great Sculpture Created by One of Loveland's Legends
Twitter/Denver Int'l Airport
It may be one of the least controversial pieces of art at Denver International Airport, but it depicts one of the most important people when it comes to air travel.
Tens of millions of people fly through Denver International Airport every years, and a lot of that travel is thanks to a pilot, Elrey, B. Jeppesen; and there's a sculpture of him at DIA crafted by Loveland's George Lundeen.
Yes, the Wright brothers invented flight, but you really have to give credit to today's air travel to Jeppesen. Back when he started flying, pilots were still using landmarks and road maps to navigate the skies. It sounds crazy, only because it's true.
When he started flying in the 1930's, Jeppesen began keeping his own notes about flight routes in a little black book, a manual, which later became the Jeppesen Airway Manual that all the airlines use today, to get everyone where they're going, safely.
Maybe you've heard of the Jeppesen Terminal at DIA? This is that Jeppesen.
Near South Security at DIA you'll find this sculpture of Jeppesen, 'The Aviator.' It was crafted by George Lundeen, a sculptor who grew up in Nebraska, but has made his home in Loveland for many, many years.
You wouldn't be hard-pressed to find George's creations around Loveland and Northern Colorado, but I think it's very cool that this is at DIA for all those travelers to see. It's been at DIA since it opened in 1995.
Somewhere in a photo album I have, you'll find a picture of my brother and I underneath 'The Aviator,' as my brother was on his way back to the east coast at the time.
Thanks, Jeppesen, and thanks, George.
Learn About Denver International Airport's 'Blucifer'
Denver International Airport replaced 'Stapleton' as Colorado's biggest airport and has been surrounded in controversy ever since, including the 'Blue Mustang' statue affectionately known as 'Blucifer.'
Speaking of Loveland, The 15 Shops That Are Currently at The Outlets at Loveland
The Outlets at Loveland opened in 1994, and was a real 'hot spot' in its day. 27 years later, here in the fall of 2021, things have cooled, but stores remain.