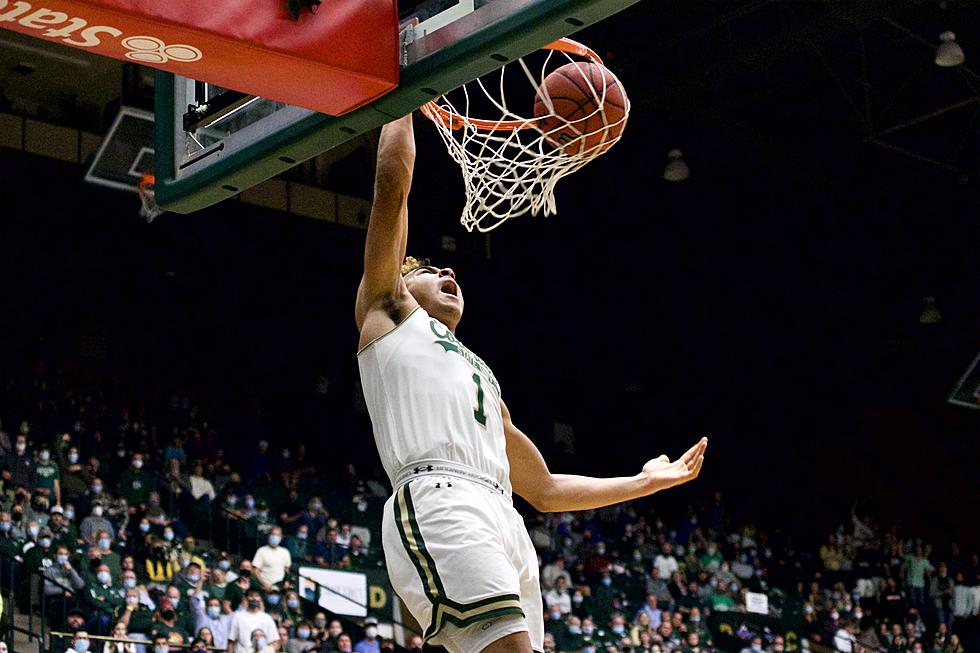 CSU Men's Hoops Ranks Among The Most Interesting + Successful Teams In The NCAA
CSU Athletics
There's no doubt about it - Colorado State Men's Basketball is on fire this season.
For starters, the CSU men's basketball team is currently one of only nine unbeaten teams in men's college basketball this season, which has, rightfully so, earned the Rams some big, long-awaited recognition.
After last weekend's huge home win against Saint Mary's, Rams Fans were sure that this undefeated team has rightfully earned their spot in the AP polls.
However, when the latest AP Top 25 poll was released earlier this week, it was revealed that Colorado State was just shy of breaking the top 25, receiving 90 votes. The Rams also received 79 votes in the coaches poll, according to ESPN, but those votes were unfortunately not enough to crack that poll either.
CSU Might Not Be Ranked This Week, But They're Still Interesting & Successful
Okay fine, so the Rams didn't make the AP Top 25 this week (Week 5), but they did successfully make it onto another list - CBS Sports college hoops analyst Matt Norlander's "Hey Nineteen" rankings list, a weekly encapsulation of the 19 hottest, most successful and/or most interesting teams in college basketball.
Norlander placed the Rams at #8 on his rankings list which was released on Thursday (Dec. 9), moving the team up three spots on his list from last week.
His reasoning?
"I watched the first 34 minutes of Colorado State's home game Saturday vs. Saint Mary's. Then I turned it off because there was nothing left to see. The Rams thoroughly outclassed a fellow mid-major NCAA Tournament candidate with a 74-58 win.
That's just facts.
Norlander continues, "If the Rams beat a vulnerable Mississippi State team in Fort Worth this weekend, it will mean four of CSU's 10 wins will have come on neutral courts. It's big because there are no nonconference road games for this team this season."
Simply put, what a big season it has been for this team already, and, at this rate, what a season it will continue to be.
What's Up Next For The Rams?
This week, the Rams are hitting the road and will be back in action this weekend live from the Lone Star State; on Saturday afternoon (Dec. 11), CSU men's basketball will participate in the Naismith Hall of Fame Classic in Fort Worth, TX, taking on the Mississippi State Bulldogs. The game will begin at 12 p.m. MT.
Then, the following weekend, CSU will be headed back to Fort Worth to take on the Tulsa Golden Hurricane in the Hoop Hype XL College Basketball Showcase on Saturday, Dec. 18 at 2 p.m. MT.
GO RAMS!
CSU Rams Fans Through the Years
Worst Trades in Colorado Sports History