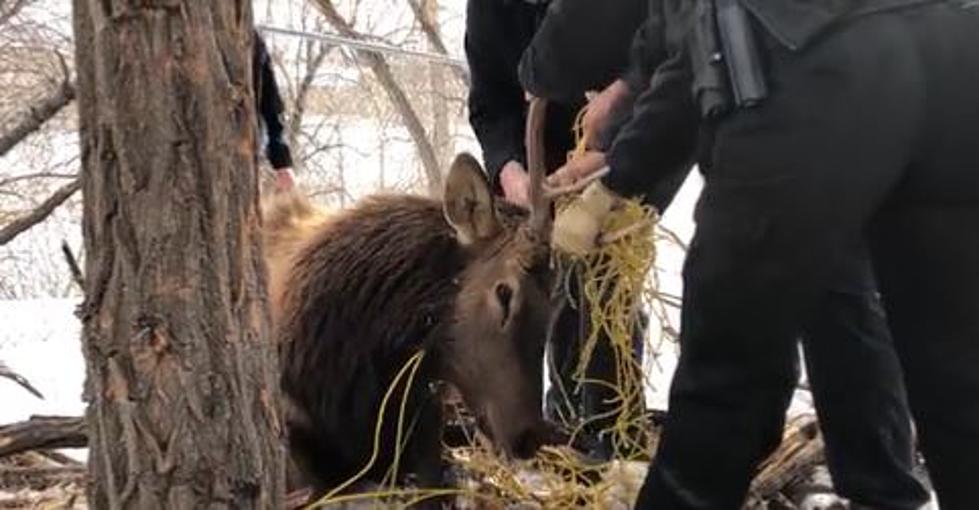 Colorado Bull Elk Rescued After Being Tied To A Tree
Twitter/Colorado Parks and Wildlife
A bull elk got himself in a bit of a pickle recently when it had some ropes tangled up in its antlers get stuck in a tree and have two long wooden posts that were mixed in there as well.
According to Colorado Parks and Wildlife
'Land managers rope off areas to try to prevent elk from damaging them,' said Area Wildlife Manager Matt Martinez. 'It is an aspect of the landscape and shows the intersection of humans and wildlife in our urban interface. Land managers have every right to protect their property and the ones in Golden do as good of a job as they can to mitigate conflicts like these. We appreciate their efforts, but these things still can and do happen.'
Wildlife officers said that thanks to the quick report from a local resident, that was what made the difference in them making a quick rescue without the elk sustaining any injuries.
9 Signs You Know You Are From Colorado
10 Wild Animal Encounters in Northern Colorado in 2020
Photos: 10 Reminders to 'Leave No Trace' in Colorado