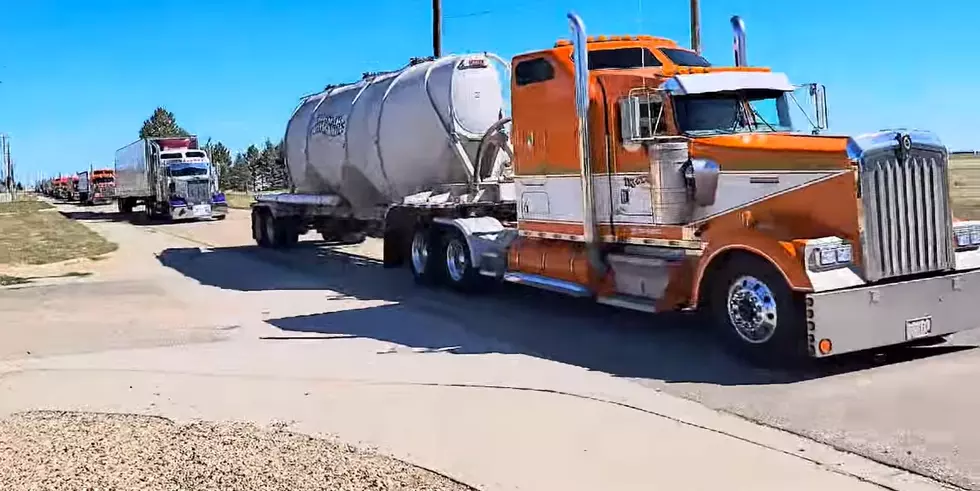 Wyoming Truck Driver With Cancer Gets A Special Surprise
Loretta Gorsuch via Facebook
Can you imagine what it would be like without truck drivers? Without them, you surely wouldn't have as many options in the stores.
Your kids wouldn't be able to reach their arms up and get the cool feeling of hearing the big horn honk back when they pull the imaginary chain.
Without truck drivers, there would've never been the need for some of your favorite food options. Many roadside restaurants were created with the truck driver in mind, because of the importance of their job.
During the last couple years, the truck drivers of the U.S. have been the lifeline to a world that was going through the worst pandemic in recent history.
The profession is a tough profession, the hours are long, the time away from  family is hard and the dangers of the road are many. One thing about most truck drivers is they have big hearts and when they have the chance to come to the aid of others, they'll do just that.
When I was growing up, I had many family members that were truck drivers, now some of my long time friends are truck drivers and truck driving has always been a desire to me.
Just recently truck drivers responded when the call came out for a convoy to honor a former truck driver with cancer. The video surfaced over the weekend of a Wyoming Highway Patrol led truck convoy to honor truck driver of 30 years Danny Proffitt from Burns, WY. Danny's cancer is taking it's toll on the former driver and his family put out a call to truck drivers to help lift his spirits.
The truck driving community showed up big time. The kind gesture of so many of our road warriors was enough to bring Danny to tears and not doubt raised his spirits.
Awesome Wyoming Road/Street Names
Wyoming, Seen Through The Eyes Of A Locomotive Engineer
Alan Nash is a cartoonist, member SCBWI-Illustrator, Locomotive Engineer, and a sunrise and sunset chaser. You can find more of his work on his Twitter account @VernChronicles
Spectacular Wyoming Roadside Attractions That You Must See
All across the Cowboy Stare are oddities and wonders to behold. Some are natural wonders. Some are interesting things found in the middle of nowhere.