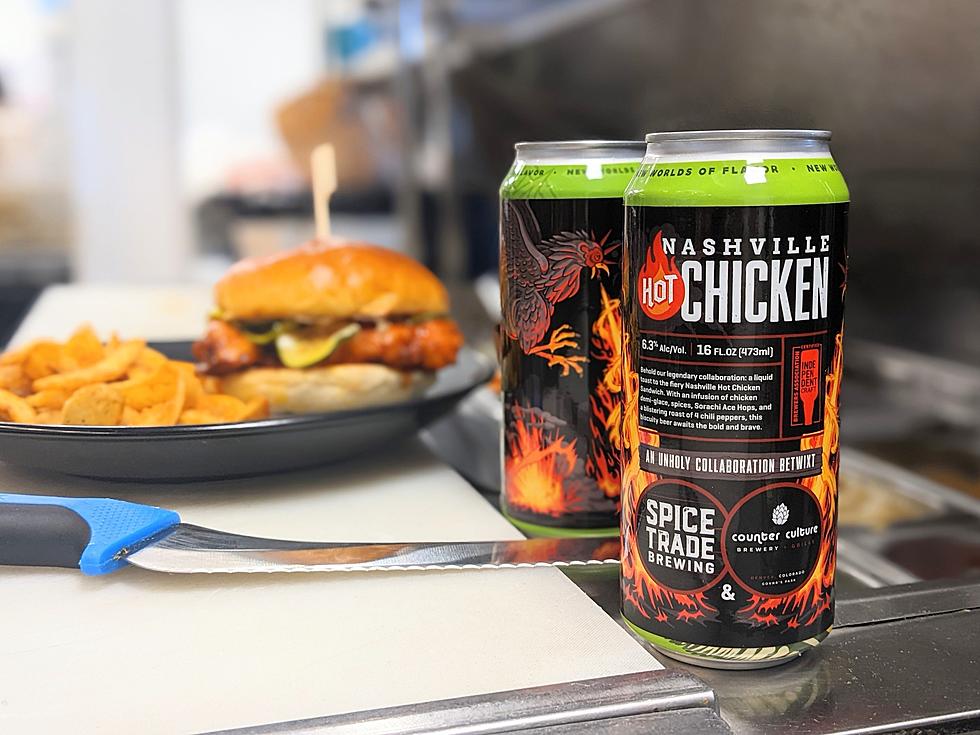 Two Colorado Breweries Collab on a Nashville Hot Chicken Beer
Spice Trade Brewing Facebook
A collaboration between two Colorado craft breweries has resulted in a world-famous style of chicken in a one-of-a-kind beer.
The two Colorado craft breweries that are teaming up for this beer are Spice Trade Brewing and Counter Culture Brewery to release a Nashville Hot Chicken beer on Friday, April 1. You may be thinking that this is an April Fool's day joke, but it's real.
The Nashville Hot Chicken Beer is a Red IPA that has an infusion of a chicken demi-glace, spices, a combination of four chile peppers, and dry-hopped with Sorachi Ace hops.
Spice Trade Brewing's Facebook post says this Nashville Hot Chicken beer is a biscuity brew that awaits the bold and the brave. Being a lover of all things that carry a punch when it comes to spicy food, I would certainly love to get my hands on a can or two of this unique beer.

The Nashville Hot Chicken Red IPA will also be one of the many beers featured at the Collaboration Beer Fest. The beer festival put on by the Colorado's Brewers Guild will take place at the Fillmore Auditorium in Denver on Saturday, April 2.
Tickets, info, and the beer selection that will be available can be found at Collaboration Fest.
Colorado's Top 20 Baby Names For 2022
Congratulations, you're expecting!
Are you struggling to choose a name for your newborn?
Names.com just released its annual list of the
most popular Colorado baby names in 2022
; the list includes the top 10 boy names, as well as the top 10 girl names selected most frequently by Coloradans in 2022.
10 Places to Take a Hot Air Balloon Ride in Colorado
Here are 10 options for a hot air balloon ride in Colorado.
$4.5 Million Colorado Mansion has an Indoor Pool With Water Slide
This amazing home has pretty much anything you could want in a home and more.