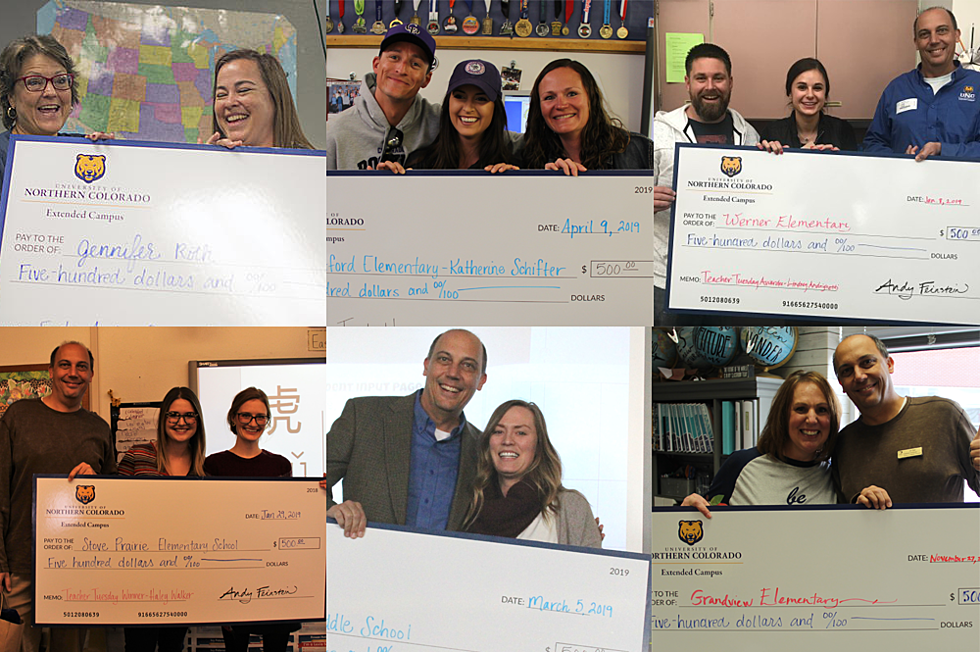 Teacher Tuesday Winners This Year
2018-19 Teacher Tuesday winners.
Phew, it's been quite a ride this year, hasn't it? Over the past few months, you've been nominating your favorite teachers, all the way from preschool powerhouses to high school heroes, and we've seen a lot of truly exceptional people participate in our contest.  Even though only one can win the $500 prize for their school each month, it's still our honor and delight to celebrate all those who have the exceedingly difficult but rewarding job of educating Northern Colorado's kids.
Here are your last Teacher Tuesday winners of 2019-20 School Year:
September: Chris Farrell – Jackson Elementary
October: Ericha Jaeger – Windsor Middle
November:  Ashley Torres – Bauder Elementary
December: Julie Thompson – Lesher Middle
January: Jamie Simon – Northridge Elementary
February: Micah Jennings – Fred Tjardes School of Innovation
March: Denise Kennedy – Grandview Elementary
Townsquare Media's Teacher Tuesday Winners, 2019-2020
Though, truly, we want to recognize all of our fabulous participants from 2019. If one of these wonderful people teach at your or your kid's school, be sure to thank them for everything they do.
Emily Furlan
Chris Farrell
Cathy Bowles
Courtney Looney
Brad Farbo
Julie Brazelton
Diane Kallhoff
Kathi Slavik
Tabitha Nickerson
Stacy Hoban
Tammy Warren
Scott Kindt
Kathy Azari
Danielle Mwago
Ashley Torres
Emarie Neal
Jane Phelan
Amber Pollock
Dahlie Maycroft
Julie Thompson
Kendra Larson
Kenneth Magruder
Ruthie Smith
Maggie Miles
Haley Walker
Kent Kast
Melissa Schaefer
Sherri Riffle
Daniel Smith
Ashton Lee
Shelby Smith
James Ruby
Jessica Wolfe
Stephanie Sumulong
Ronda Buck
Katherine Schifter
Troy Tolar
Jenna Roth
Danielle Rutz
Megan Mulder
Aspen Lindley
Kyle Appelhans
Megan Santos
Lyn Karnes
Juli Romero
Matt Norton
Sally Wright
If you have a teacher you want to see recognized in 2020, nominate them below!