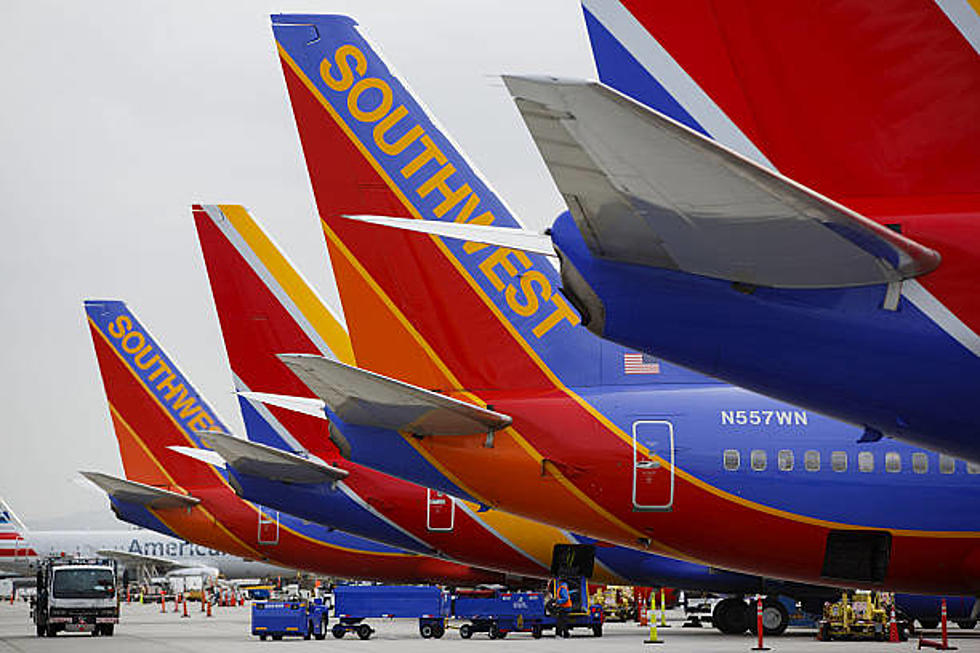 Southwest Airlines Debuts New Hangar At DIA, Creating More Jobs
Bloomberg via Getty Images
Southwest Airlines is making its mark on Denver International Airport (DIA) in a big way.
On Thursday morning (Mar. 24), the Texas-based airline Southwest Airlines debuted its new, massive 130,000 sq. ft. hangar at Colorado's Denver International Airport during a celebratory ribbon-cutting ceremony.
According to KDVR, the official opening of Southwest's new hangar comes just as the airline works to fill new jobs in its Denver region and beyond.
"We're super excited about this hangar," Kurt Kinder, VP of maintenance operations, Southwest Airlines told KDVR on Thursday. 
Not only will the new hangar greatly help Southwest, in terms of expanding its operations out of Denver International Airport due to the addition of new terminal gates, the opening of the new hangar at DIA - which now poses as the seventh of its kind company-wide for Southwest Airlines - will ultimately bring several more jobs to the Denver area.
"There's just so many skills that we're looking for," Kinder said.
Although the airline didn't specify exactly how many jobs it would be hiring for, Southwest says it's looking for people to fill various positions, specifically those with expertise in computers, electronics, flight controls, sheet metal, and engines.
According to Kinder via KDVR, the new hangar will house sixteen new Southwest Airlines-dedicated gates; the airline is slated to begin operating out of these gates beginning sometime this Spring.
KDVR says that, until recently, Southwest Airlines heavily depended on its competitors' hangars to tackle its unscheduled maintenance at DIA.
"We would knock on United's door or Frontier's door, and they were always there to help," Kinder told KDVR.
"Now we have a facility here, and I'm sure we'll have to pay that back somewhere."
The hangar is opening as airlines bounce back following the most hectic months of the pandemic.
"We saw the flight loads drop out from underneath us," Kinder said.
Kinder reportedly told KDVR that even while the airline was looking for ways to save money during the COVID-19 pandemic, Southwest continued to support the full building out of the new hangar at DIA.
"The commitment shows how much of a priority Denver is for Southwest."
5 Destinations That Need to be Added to the Northern Colorado Regional Airport
These are the five destinations we would love to see added to the Northern Colorado Regional Airport as a nonstop flight.
Here's Just How Much Denver Has Changed Since 1980
In addition to the way it looks, Denver has changed in many different ways since 1980...Here are a few of them.