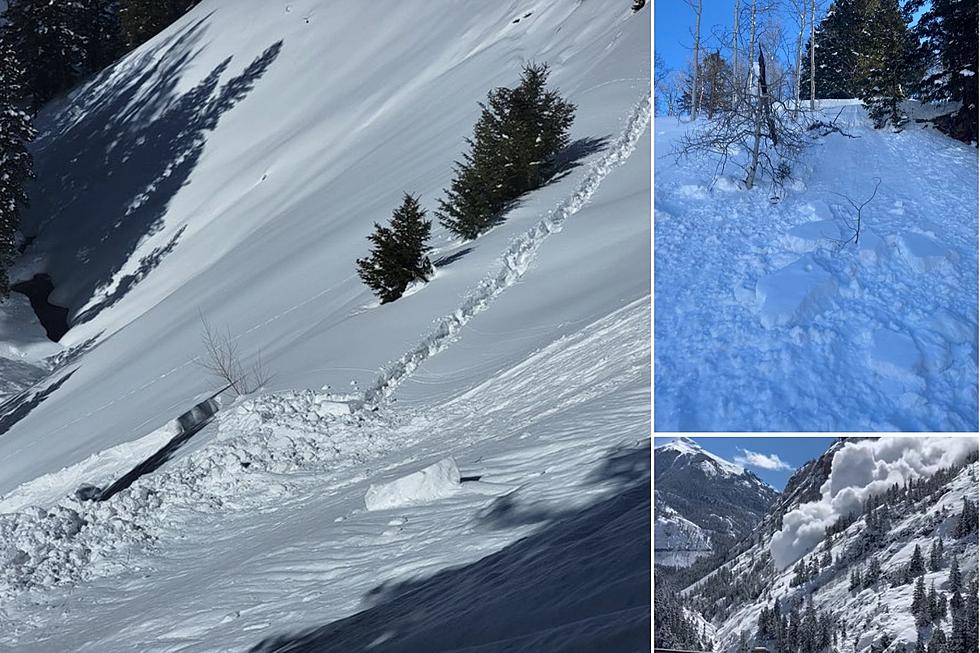 Snowshoer, Two Dogs Killed In Western Colorado Avalanche
Colorado Avalanche Information Center
Backcountry avalanche conditions remain dangerous in Colorado, and we received a stark reminder over the weekend as a man and two dogs were tragically killed in a western Colorado avalanche.
Avalanche Kills Man and Two Dogs
A man and two dogs were killed Friday in an avalanche in the lower portion of  Yule Creek, outside the town of Marble in Gunnison County. The avalanche occurred at an elevation of 8200 feet.
Snowshoers Trigger Avalanche
According to the Colorado Avalanche Information Center, a group of four people was snowshoeing to a backcountry home when the avalanche was triggered.
The CAIC says three of the people and two dogs moved to a road that cut mid-slope along the side of a steep bully. The avalanche pushed them down the mountain where debris formed a deep pile in the bottom of the gully. Two of the people were partially buried but were able to dig themselves out. Unfortunately, one person and both dogs were completely buried and died at the scene.
Rescuers Called to the Scene of Colorado Avalanche
Rescue crews were called to the scene, however, due to the instability of the terrain and the time of day, there was a limit to areas that could be safely searched. Rescuers returned to the mountain on Saturday to retrieve the body of the man which was reportedly buried under five feet of snow.
The CAIC says the avalanche was approximately 50 feet wide and ran 250 feet vertically. The face of the crown was reported to be one to two feet deep. According to the CAIC, it's the fourth Colorado fatality of the season.
Large Natural Avalanche Captured on Video
On Friday, the CAIC had posted this video on their Facebook page of a large natural avalanche. (not the avalanche in this story.)The video was captured by CDOT workers on US 550 and reminds us how devastating an avalanche can be. A special avalanche advisory had been issued on Friday for the weekend in the Colorado high country.
The 15 Deadliest Avalanches in Colorado History
Take a look at the snowslides that caused the largest number of fatalities in Colorado, many of which date back to the state's gold mining era.
8 Fabulous Places For Snowshoeing Fun In Colorado
Colorado is a winter paradise for outdoor enthusiasts that love the snow and there is no shortage of places to go. If you are a snowshoer, or you're thinking of giving it a try, here are 8 fabulous places in Colorado that offer some awesome snowshoeing trails.