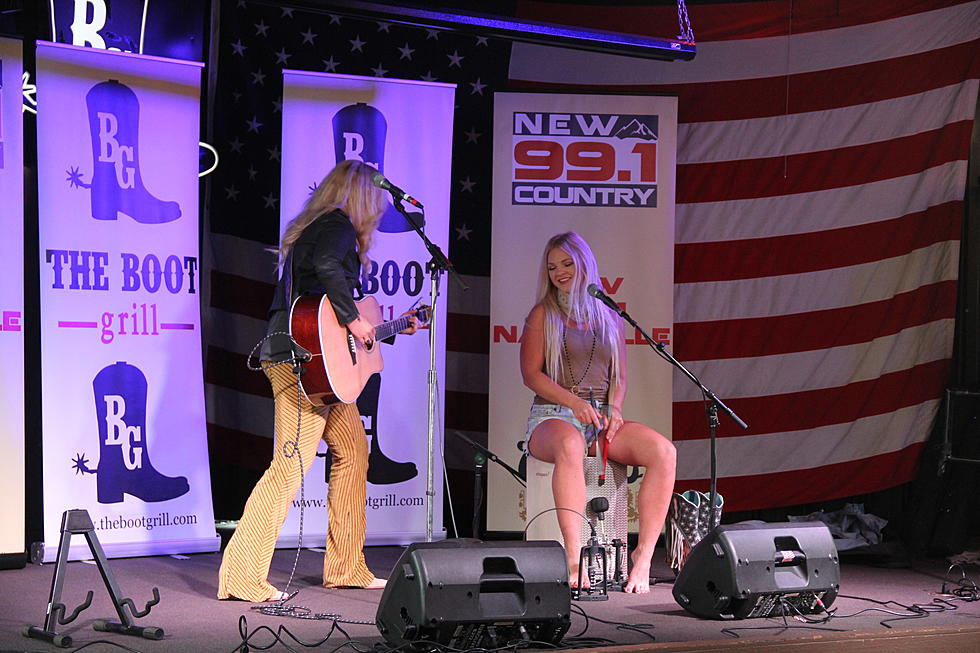 LOOK: New From Nashville Recap With American Blonde
Madi Scruggs, TSM
We've said it once and we'll say it again: It feels SO good to bring live music back to Northern Colorado.
It's hard to believe that we went nearly a full year without live music due to the COVID-19 pandemic, but the tides have turned in our favor; this week, we hosted another New From Nashville (our fifth NFN of 2021) - and each performance just keeps getting better. and. better.
The New Country 99.1 concert series that has brought the likes of Kane Brown, Dan + Shay, Morgan Wallen, Jon Pardi, and more artists to Northern Colorado before they hit the big time, was back again on Thursday (Sept. 16) at The Boot Grill in Loveland, featuring the country duo American Blonde.
Nata and Tinka Morris, the sisters who make up this incredibly talented rising country duo hail from the Mississippi Delta. The sounds of artists including The Eagles, B.B. King, Lynyrd Skynyrd, The Allman Brothers, Elvis, Stevie Nicks, and more consumed the lives of the sisters who were raised listening to the Blues-oriented music of the region.
American Blonde played an awesome acoustic set featuring original songs and even gave the crowd an early listen to their new single 'Quicksand' which drops Friday (Sept. 17).
Big thanks to High County Beverage for providing $2 Coors Banquet beer to the crowd.
Stay tuned for future New From Nashville concerts - but until then, check out some awesome photos below, recapping Thursday's event:
New From Nashville: American Blonde
On September 16, Loveland's The Boot Grill was delighted when American Blonde decided to come by and entertain the audience. This show brought to you by New Country 99.1!
New From Nashville History
Maggie Rose August 20, 2012
Aaron Lewis September 17, 2012
Kristy Lee Cook  November 28, 2012
Weston Burt  February 8, 2013
Joel Crouse  February 20, 2013
Due West  March 7, 2013
Morgan Frazier March 26, 2013
Austin Webb April 18, 2013
Dakota Bradley April 18, 2013
Jaida Dreyer April 18, 2013
Parmalee June 21, 2013
Eric Paslay July 18, 2013
Cassadee Pope July 30, 2013
Drake White August 7, 2013
Jon Pardi August 28, 2013
Fankie Ballard September 19, 2013
Brothers Osborne October 4, 2013
Dan + Shay October 18, 2013
Joe Nichols December 7, 2013
Dustin Lynch December 10, 2013
Chase Rice Mar 12, 2014
Ryan Kinder April 1, 2014
Cadillac Three April 9, 2014
John King April 22, 2014
Katie Armiger May 9, 2014
Joey Hyde June 12, 2014
Kira Isabella June 25, 2014
Chase Bryant July 31,2014
Maddie and Tae August 29, 2014
American Young October 30,2014
Kelsea Ballerini November 11, 2014
Mo Pitney November 20, 2014
Samantha Landrum December 10, 2014
Austin Webb January 14, 2015
David Fanning January 16 2014
Seth Alley January 29, 2015
Logan Mize February 5, 2015
Michael Ray March 4, 2015
Steven Lee Olsen March 12, 2015
Drake White April 2, 2015
Rodney Atkins April 15, 2015
Waterloo Revival April 20, 2015
A Thousand Horses May 3, 2015
Jackie Lee May 13, 2015
Mickey Guyton May 27, 2015
Clare Dunn May 30, 2015
Ruthie Collins June 4, 2015
Rachel Lynae June 18, 2015
Rainey Qualley July 14, 2015
Dallas Smith August 7, 2015
Waterloo Revival August 12, 2015
Matt Gary September 15, 2015
Dylan Scott September 22, 2015
William Michael Morgan September 30, 2015
Lucas Hoge October 8, 2015
Cam October 26, 2015
Lauren Alaina October 29, 2015
Jordan Rager January 6, 2016
Drew Baldridge January 21, 2016
Hudson Moore February 24, 2016
Tara Thompson February 15, 2016
Charles Kelley March 29, 2016
Brandy Clark March 30, 2016
LANco April 7, 2016
Margo Price March 10, 2016
Cloverdayle May 27, 2016
Trent Harmon June 20, 2016
David Ray June 24, 2016
Hudson Moore June 25, 2016
Stephanie Quayle July 1, 2016
Tara Thompson July 3, 2016
Craig Campbell July 8, 2016
Mickey Guyton July 19, 2016
Morgan Wallen July 26, 2016
Runaway June July 27, 2016
Seth Ennis September 21, 2016
Chase Rice October 3, 2016
Ryan Follese October 13, 2016
Tucker Beathard October 18, 2016
Caroline Jones January 17, 2017
Bailey Bryan January 26, 2017
Steve Moakler February 2, 2017
Walker McGuire February 23, 2017
Midland March 24, 2017
Carly Pearce March 28, 2017
The Railers April 6, 2017
Morgan Wallen April 7, 2017
Fiona Culley May 30, 2017
Ryan Hurd June 20, 2017
Cloverdayle June 23, 2017
Michael Tyler June 28, 2017
Drew Baldridge July 1, 2017
Brooke Eden July 4, 2017
Terra Bella July 14, 2017
Walker Hayes August 30, 2017
Danielle Bradberry September 12, 2017
Levon September 28, 2017
Grainger Smith October 3, 2017
Josh Gracin October 12, 2017
Risa Binder October 23, 2017
Morgan Evans November 9, 2017
Jillian Jacqueline November 15, 2017
Ashley McBryde December 6, 2017
Kane Brown December 12, 2017
Cale Dodds January 18, 2018
Mitchell Tenpenny February 28, 2018
Smithfield March 6, 2018
Tyler Rich April 10, 2018
Anna LaPrad April 19, 2018
Tenille Arts May 13, 2018
Sundance Head June 22, 2018
Travis Denning June 23, 2018
Brandon Lay July 1, 2018
Austin Burke September 4, 2019
Matt Stell March 12, 2019
Haley & Michaels March 12, 2019
Aaron Goodwin April 24, 2019
Drew Baldridge May 10, 2019
Dillon Carmichael May 28, 2019
Noah Schnacky August 8, 2019
Caylee Hammack September 4, 2019
Luke Mills March 27, 2021
Luke Mills & Dylan Bloom May 16, 2021
Callista Clark August 3, 2021
Ben Gallaher August 17, 2021
American Blonde September 16, 2021