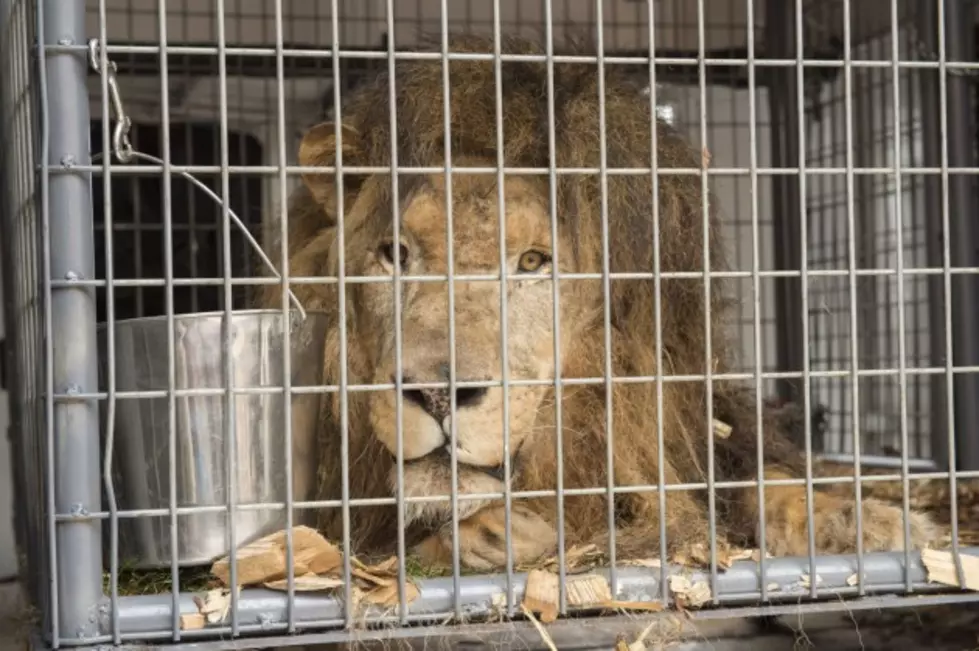 African Lion Treated for Broken Neck at CSU Vet Teaching Hospital [PICTURES – VIDEO]
Joe Mendoza, CSU
A 15-year-old male African lion named Guero was rescued in Mexico, flown to Colorado and taken to the James L. Voss Veterinary Teaching Hospital at Colorado State University for evaluation of a broken neck and badly damaged teeth. Experts from neurology, exotic animal medicine, small animal surgery, anesthesiology and dentistry collaborated to diagnose his injuries and provide a treatment plan for Guero.
According to CSU, the 345-pound lion was airlifted April 24 to his new home at the Wild Animal Sanctuary in Keenesburg, from an animal rescue organization in Pachuca, Mexico. They think Guero broke his neck around two and a half years ago by a gate in the lion's cage.
Colorado State veterinarians used MRI to identify an old neck fracture that healed, but left him with chronic pain and impaired movement. After a complete evaluation, the team recommended steroids to ease Guero's pain and to improve his movement and quality of life and decided against surgery because of his age, extensive spinal disease and the time since his neck injury.
CSU veterinarians also discovered  dental disease. Guero has broken teeth, gum disease and exposed roots, possibly the result of gnawing the bars of his cage. A specialist quickly set to work with drills and cleaning equipment, prescribing follow-up root-canal surgery that will provide Guero with comfort and easier eating.
Guero returned to the Wild Animal Sanctuary on Monday afternoon to begin steroid therapy and will receive further dental work at the sanctuary. This YouTube video tells more of Guero's Story: