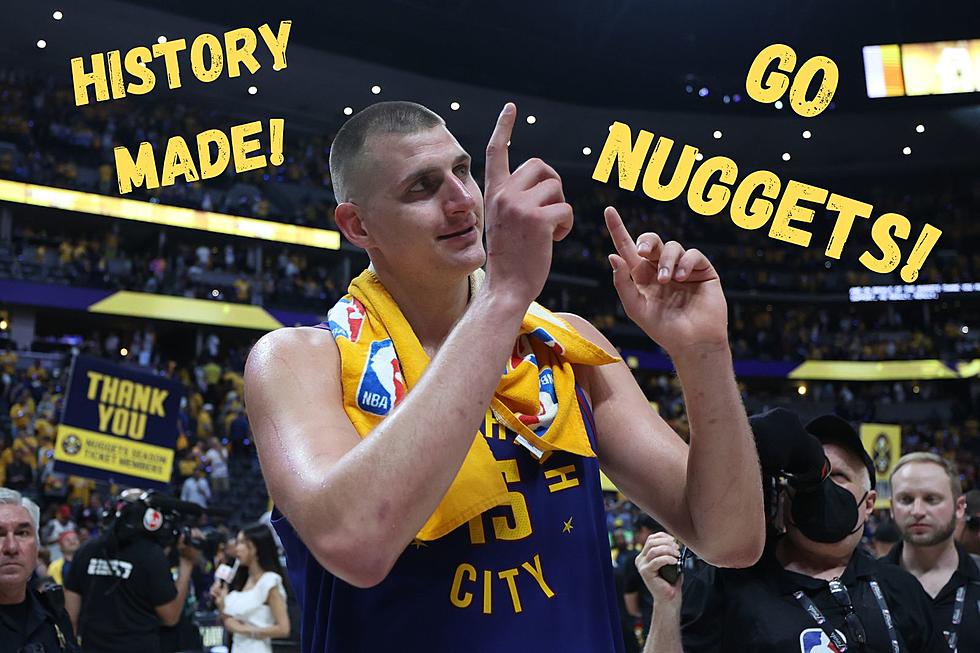 Denver Nuggets Break 40-Year NBA Playoff Record In Game 1. Amazing
Getty
For the first time in almost 50 years, Denver, Colorado hosted an NBA Finals game at Ball Arena with our Denver Nuggets hosting the Miami Heat. And what a record-setting game it was...
Denver Nuggets And Nikola Jokic Make History In NBA Finals Game One
It took nearly 50 years, but last night, June 1st, 2023, the Denver Nuggets hosted its very first NBA Finals game in franchise history. Colorado has been buzzing since the Nuggets swept the Los Angeles Lakers last week to secure their spot in the 2023 NBA Finals, a first for the Nuggets.
I'll be honest, I don't think I've ever seen this many Nuggets shirts, jerseys, hats, hoodies, etc. while out and about as I have this last week. Nuggets Nation, while some are new to our Nuggets wagon, is at an all-time high with excitement, and rightfully so. After last nights dominating performance, the Nuggets are showing the world that they are the very best basketball team, not just in the NBA, but the entire world, breaking records and making history in the process.
Denver Nuggets Break 40-Year NBA Playoff Record
While a victory is always the main goal, which last night we achieved when our Nuggets beat the Miami Heat 104 to 93, the boys made some history in the process. After over a week off, people were worried that the guys would be rusty and out of rhythm, but that wasn't the case at all as their defense and their discipline were absolutely outstanding.
It's easy to rack up fouls and give your opponents an absurd amount of free throw attempts, but in last night's game one, the Miami Heat only had two free throw attempts. Two. It's the fewest free throw attempts allowed by a team even in an NBA Playoff game. The second fewest happened back in 1983 when the Lakers were held to five free throw attempts. It's truly amazing. Especially as chippy as these high-stakes games can get. As I said, that discipline is a huge deal in a game like that. But that's not the only history made...
Nikola Jokic Makes History In NBA Finals Game One
The two-time NBA MVP, Nikola Jokic, who is the master of the triple-doubles, got yet another one in his very first NBA Finals game last night. He's only the 2nd player to do that in his Finals debut. He also tied LeBron James as the only person to have 10 points and 10 assists in the first half in the last 25 years. As seen in this post below from ESPN Stats, LeBron accomplished that in his 42nd NBA Finals game, and Joker did it in his very first. Unreal.
This might sound weird, but Denver looked relaxed last night. They have their eyes on the prize and from the looks of things, nobody, including the Eastern Conference Champion Miami Heat is going to stop them. What an incredible and historic time to be a Denver Nuggets fan. Three. More. Wins. Go Nuggets!
The Ten Best Moments in Denver, Colorado Professional Sports History
From the Denver Broncos to the Colorado Rockies, or the Denver Nuggets to the Colorado Avalanche, these are the Best Denver Sports Memories of the last 40 or so years.
Did You Know Colorado Has A Movie Car Museum? It's Pretty Rad
This hidden Colorado gem is one you've got to see. Rodz & Bodz Movie Car Museum is a real treat!