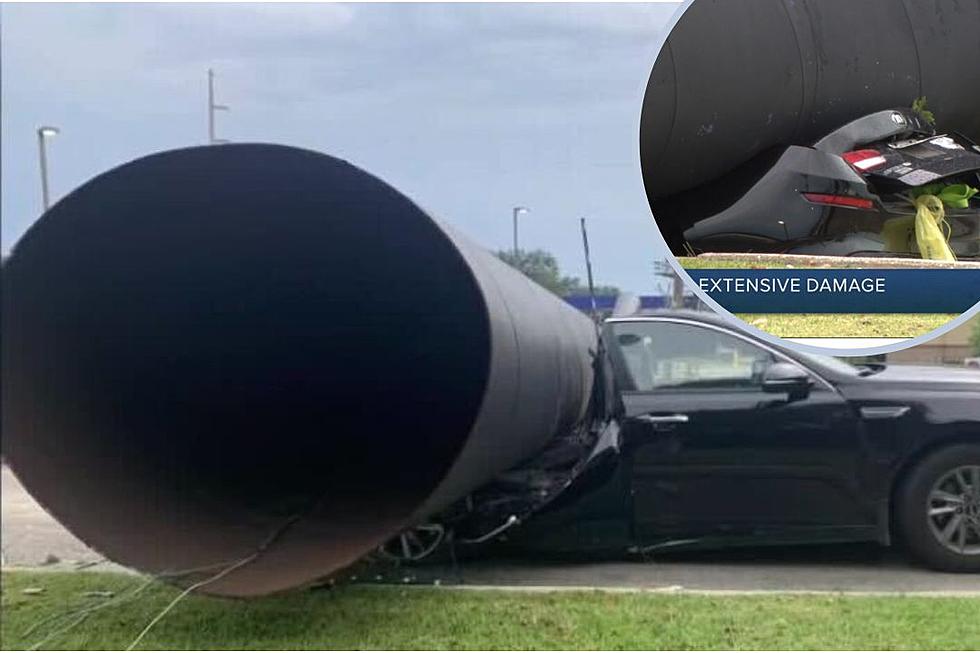 Mammoth Taco Bell Sign Falls on Car in Taco Bell Drive-Thru
KLFY.com
Severe storms passed through Crowley, La. recently, and they caused some pretty devastating damage. One thing in particular that happened during this storm is making its rounds on the internet.
A woman was in the drive-thru line waiting on her Taco Bell order, when she looked up and saw the restaurant's giant sign, at least 50 ft. tall, start to shake in the wind.
Moments later, the unthinkable happened: The entire pole and sign fell right on top of her car, trapping her in the driver's seat.
The pole obliterated the complete back seat of the car. See the photos:
"EMTs were on site pretty quick," Scott Richard, superintendent of Acadia Parish, explains. "The individual was taken out of the car very carefully and miraculously she was not injured more than she was."
There is no doubt that if someone was in the back seat of the car, they wouldn't have made it out of this nightmare of an ordeal alive.
Madyson Dailey, the daughter of the woman in the car, says, "She called and said her head was bleeding and she was stuck in her car and that a pole fell into her car. She has a minor gash in her head which led to her getting staples but other then that she will be fine."
Taco Bell has not commented on the situation. Although it was not their fault and the result of weather, perhaps the woman will walk away with some free tacos.
Evan Paul is the host of Taste of Country Nights, a syndicated radio show heard on more than 120 country radio stations nationwide, every night from 7PM to midnight. He plays the best new country music and interviews today's top stars, like Luke Combs, Miranda Lambert, Dan + Shay, Keith Urban, Carrie Underwood, Luke Bryan, Chris Stapleton, Lady A, Morgan Wallen, + more! 
PICTURES: See Inside 'Duck Dynasty' Stars' Stunning Historic Plantation Venue
Duck Dynasty stars Jase and Missy Robertson have carefully renovated and restored a historic Southern plantation in Louisiana as a wedding and events venue, and you can book a stay!
PICTURES: See Inside Ashley Judd's Charming Historic Home
Ashley Judd has put her historic estate up for rent, just over a year after her mother,
Naomi Judd
, died by suicide at her nearby home.
PICTURES: Look Inside Lisa Marie Presley's Oceanfront Florida Mansion
Lisa Marie Presley's former mansion in Florida is for sale, and pictures show a stunning oceanfront property fit for rock royalty.