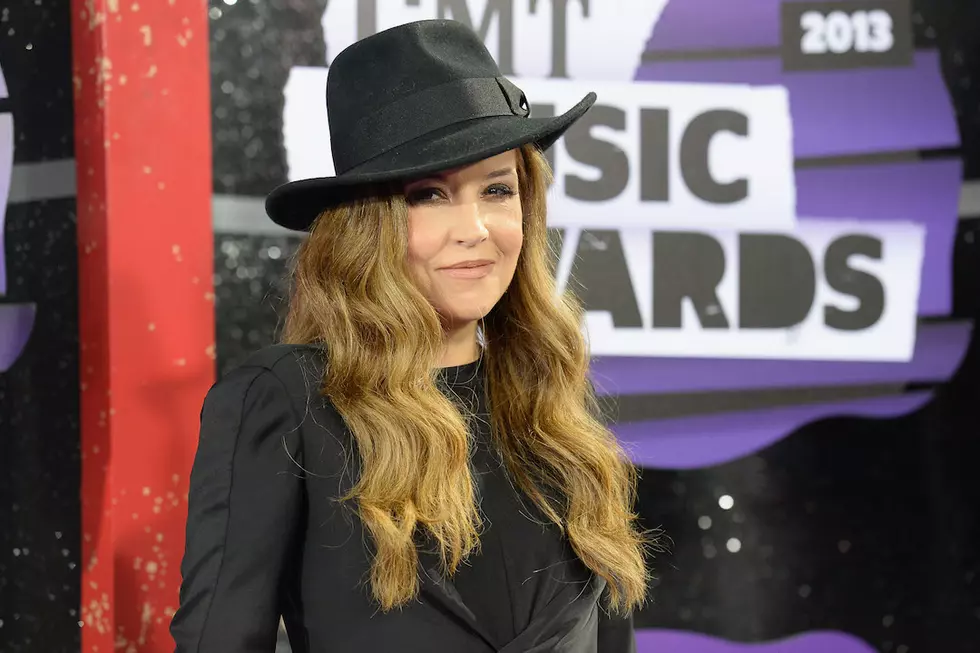 Priscilla Presley Speaks at Lisa Marie Presley's Memorial: 'Our Heart Is Broken'
Getty Images
More than a thousand people turned out to Memphis, Tenn.'s Graceland on Sunday (Jan. 22) to honor the life of Lisa Marie Presley, who died on Jan. 12, 2023 at the age of 54.
According to Hollywood Reporter, some mourners held flowers as they filed in to Presley's public memorial service, which was held on the front lawn of Graceland, the estate that was home to Presley's legendary father, Elvis Presley.
In addition to those who attended the service in person, many more watched on from home, as the service was livestreamed to the public.
Music was a large part of the service: Alanis Morissette performed "Rest," Guns N' Roses' Axl Rose sang "November Rain" and the Smashing Pumpkins' Billy Corgan delivered a rendition of "To Sheila," also playing acoustic guitar as he sang.
The service was also filled with touching tributes from many people from different aspects of Presley's life. Among those who spoke were Jerry Schilling, a talent manager and member of Presley's Memphis Mafia. Former Mayor of Memphis A.C. Wharton also spoke, reflecting on Presley's connection to the city and saying, "She was not only the King's daughter, she was our city's choice. .. she belonged to us and we belonged to her."
Presley's mother, Priscilla Presley, addressed the crowd, reading a poem called "The Old Soul" from Harper Vivienne Ann Lockwood, one of Presley's three daughters.
"In 1968, she entered our world, born tired, fragile, yet strong. She was delicate, but was filled with life. She always knew she wouldn't be here too long,'" the poem read, according to People. "'Childhood passes by, with a glimpse of her green eye, she then grew a family of her own. Then came her second child, leaving her with suspicion — could this be the angel that takes me home?" The "second child" mentioned in the poem is a nod to Presley's son, Benjamin Keough, who died by suicide at the age of 27 in 2020.
"Time, of course, flew by. It was time for a tragedy. She knew it was close to the end. Survivor's guilt, some would say, but a broken heart was the doing of her death. Now, she is home where she always belonged, but my heart is missing her love," Priscilla's reading continued.
After she finished the poem, Priscilla briefly added her own words, saying, "That says it all, and thank you all for being here ... Our heart is broken. Lisa, we all love you."
Fourteen-year-old Harper was in attendance at her mother's memorial, along with her twin sister Finley and her 33-year-old older sister Riley Keough. Riley did not speak at the service, but her husband, Ben Smith-Peterson, read a note on her behalf which detailed some of Riley's childhood memories with her mom.
"Thank you for giving me strength, my heart, my empathy, my courage, my sense of humor, my manners, my temper, my wildness, my tenacity," Riley Keough's statement concluded. "I'm a product of your heart."
Presley's final resting place is the Meditation Garden in Graceland, which is also where Elvis Presley, Elvis' parents and grandmother are buried. Presley's son, Benjamin Keough, was also laid to rest in this part of the estate, and Presley will be buried beside her son.
Lisa Marie Presley Through the Years
Take a look back at the memorable moments from throughout Lisa Marie Presley's life and career. She died on Jan. 12, 2023 at the age of 54.
Rarely Seen Pictures of Elvis With Lisa Marie Presley
Lisa Marie Presley was nine years old when her father Elvis Presley died in 1977. This gallery of rarely seen family pictures shows how fond the rock n' roll legend was of his little girl.
On Jan. 12, 54-year-old Lisa Marie Presley
died
after going into cardiac arrest. Like her father, she leaves behind a young family.
R.I.P.: 27 Country Singers and Songwriters Who Died Too Soon
These country singers had so much more to give. See 27 country singers who died much too soon: Keith Whitley, Mindy McCready, Troy Gentry and more.