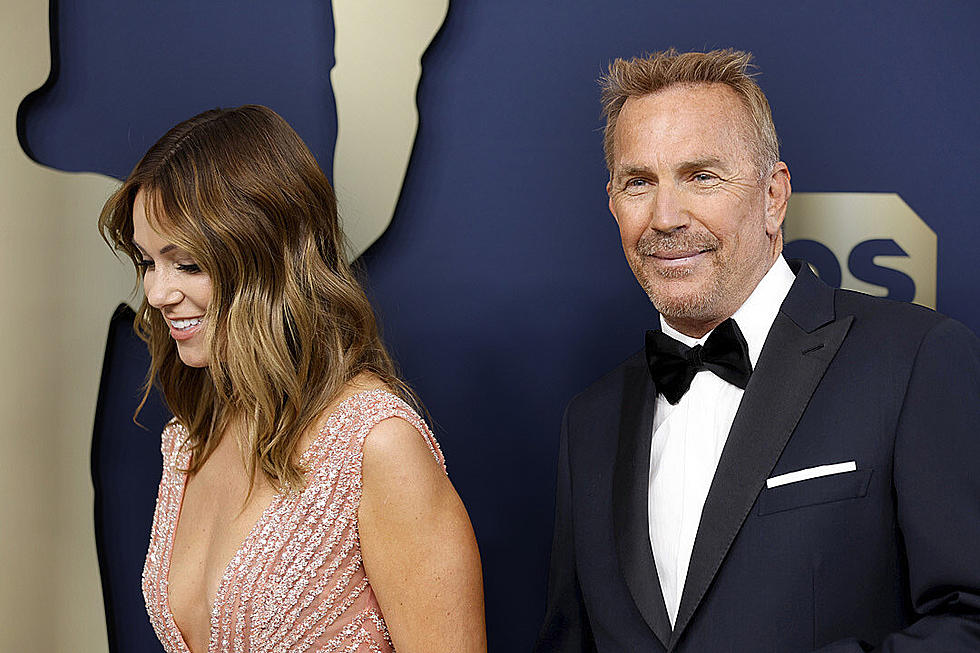 A Timeline of Kevin Costner and Christine Baumgartner's Relationship
Getty Images
Those who've followed Kevin Costner and wife Christine Baumgartner throughout their romantic timeline may recall she issued an ultimatum once before. It came in 2003, and — spoiler alert — the Yellowstone actor chose her.
He was nearing 50 at the time and already had four children, so one could understand why he was reluctant to be the 70-year-old dad at the high school graduation ceremony. In the end, he committed to becoming the 80-year-old father there, too.
Costner's first wife was Cindy Silva, whom he married in1978.
He and Cindy have three children: Annie, Lily and Joe, all in their mid-to-late 30s.
Their 1994 divorce was reported by Forbes as being one of the most expensive divorces ever, with Silva winning an $80 million settlement (via Fox Business).
Related: Kevin Costner, Christine Baumgartner Reach a Divorce Settlement
That same Fox article claims that Cindy once gave him an ultimatum, too.
"Cindy doesn't like these sexy roles, and she's given me an ultimatum," Costner allegedly said about 35 years ago. "I've either got to quit doing them or quit the movie business."
Flash-forward and Baumgartner gave him another take-it-or-leave-it choice.
How Did Kevin Costner and Christine Baumgartner Meet?
Outlets like Fox Business report that Kevin Costner and Christine Baumgartner met while he was filming Tin Cup, his 1996 golf movie with Don Johnson. However, he was dating Bridget Rooney at the time, so they remained casual until meeting up again.
When Did Kevin Costner and Christine Baumgartner Get Married?
The two became engaged in 2003 and married one year later at Costner's Aspen, Colo. ranch, the Dunbar.
How Many Kids Do Kevin Costner and Christine Baumgartner Have?
Costner has seven total children, including three with his first wife, one with Rooney and three with Baumgartner. The topic of family once broke these two up before the actor came to his senses. For more on that, see the timeline below.
Together, they have son Cayden (2007), son Hayes (2009) and daughter Grace (2012).
Why Did Kevin Costner and Christine Baumgartner Break Up?
The specific circumstances around their divorce are not known. At age 68, Costner remains very busy professionally, with a starring role on Yellowstone, his own series Horizon and more. During the pandemic he shared how he'd stayed commitment to his family first, telling People:
"Our partnership has really come into focus about what we do for each other and how we deal with our family. Our house is like a river: You've just got to get into the flow of it. And whatever you thought it was going to be, maybe it still can, but it's going to have to work with what the day brings." (via Us Weekly)
Earlier this year Christine was there to support him after his win at the Golden Globes. In 2022 they attended the Oscars together.
Despite all this, the couple moved toward divorce in May 2023, with Costner playing the victim role. A statement from his lawyer provided to TMZ reads:
It is with great sadness that circumstances beyond his control have transpired which have resulted in Mr. Costner having to participate in a dissolution of marriage action ... We ask that his, Christine's and their children's privacy be respected as they navigate this difficult time.
After several months of contentious negotiating, the pair reached a settlement in September 2023, officially ending their marriage and deciding the terms of how they'd handle finances now and in the future.
Kevin Costner + Christine Baumgartner's Relationship Timeline
Kevin Costner
and Christine Baumgartner married in 2004 and divorced in 2023, but the intricacies of their relationship timeline reveal it's a bit more complicated. Here are photos from throughout their 20-year relationship, including several of their three children.
PICTURES: See Inside Kevin Costner's Spectacular Colorado Ranch
Yellowstone star Kevin Costner lives the ranch life when he's off the set of the hit show, too. The Oscar-winning actor owns a 160-acre ranch in Aspen, Colo., that's a spectacular getaway, complete with a main residence, a lake house and a river house.
The luxury retreat also features a baseball field, a sledding hill, an ice rink, multiple hot tubs and views of the Continental Divide. The ranch property comfortably sleeps 27 people, and it's currently available to rent for 36,000 a night.