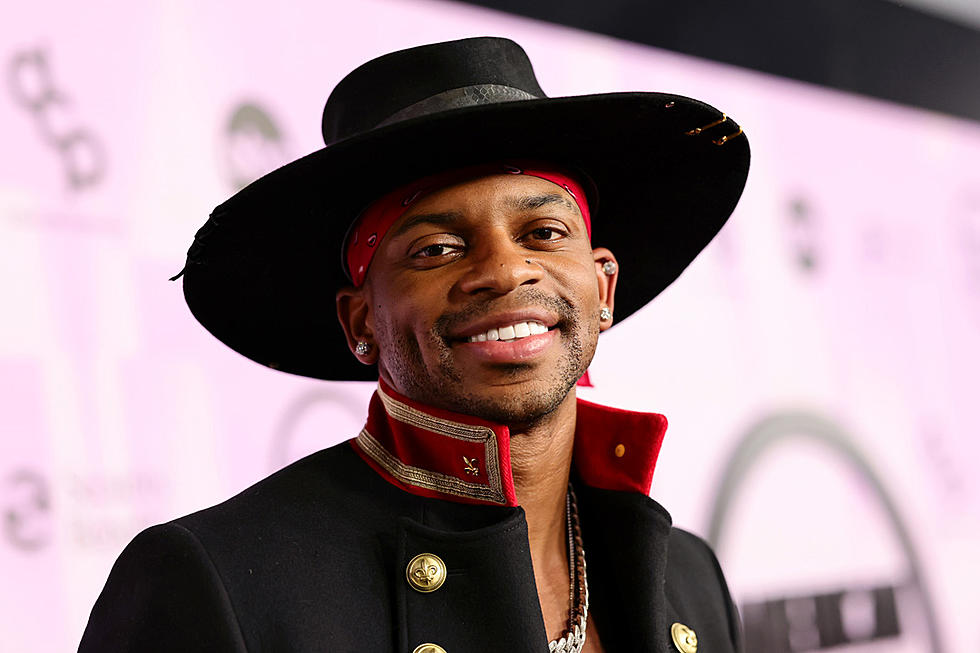 Jimmie Allen Accused of Rape, Sued for Sexual Battery, Assault + More
Emma McIntyre, Getty Images
A member of Jimmie Allen's former day-to-day team says the singer raped her, and repeatedly sexually abused and harassed her over an 18-month period from 2020 to 2022.
Variety details in depth the unnamed woman's story, citing interviews with "Jane Doe" and her friends and family, as well as dozens of text messages in that time period, exchanged between various parties including Allen and Doe.
Related: Jimmie Allen + Wife Alexis Separating
The accusations are lengthy, though no criminal charges have been filed. Allen is being sued civilly in a Tennessee federal court.
Jane Doe is suing for sexual battery, assault, false imprisonment, sex trafficking and emotional distress. Allen's former manager, Ash Bowers, and Wide Open Music are also being sued.
Here are several — but not all — of Jane Doe's claims against Allen:
In March 2021, after a business meeting in Los Angeles, the woman says she woke up in pain, naked in her hotel room. She was bleeding vaginally, but remembered nothing about what happened the night prior. Allen was reportedly lying next to her in bed, and he insisted she take a Plan B pill.
During an unspecified stop on Carrie Underwood's Denim & Rhinestones Tour, on which Allen was the opening act, Allen allegedly groped Jane Doe in the greenroom and was seemingly turned on by her fear.
Prior to Allen's 2022 Rose Parade Performance, Jane Doe had to bring Allen a COVID-19 test at his home. He allegedly met and grabbed her as soon as she entered the garage, pulled his pants down and forced her to have sex.
In February 2022, while Allen was filming a guest appearance on American Idol, Jane Doe was in such extreme pain from repeated alleged sexual abuse that she nearly collapsed on set and was taken to the emergency room (the ER visit was verified by Variety). There, doctors learned about the "vicious cycle" she was experiencing and told her to "run" from Allen, though they didn't know who the alleged abuser was.
Additionally, there are several instances described by Jane Doe in which she claims Allen groped her, or humiliated her from the stage.
Allen made the following statement to refute the claims, confirming a sexual relationship he describes as "consensual:"
It is deeply troubling and hurtful that someone I counted as one of my closest friends, colleagues and confidants would make allegations that have no truth to them whatsoever," Allen says. "I acknowledge that we had a sexual relationship — one that lasted for nearly two years. During that time, she never once accused me of any wrongdoing, and she spoke of our relationship and friendship as being something she wanted to continue indefinitely. Only after things ended between us, did she hire a lawyer to reach out and ask for money, which leads me to question her motives. The simple fact is, her accusations are not only false, but also extremely damaging. I've worked incredibly hard to build my career, and I intend to mount a vigorous defense to her claims and take all other legal action necessary to protect my reputation.
Jane Doe says she began working for Allen and Wide Open Music in April 2020. She says that during the interview process, she recalls Bowers telling her that the singer was "promiscuous but harmless." Allen's harassment began immediately, she adds.
Doe complained about Allen's behavior during the 18 months that followed, but did not report the extent of the alleged harassment until October 2022, when she told Bowers she'd been raped and sexually assaulted by the singer. Soon after, Allen was dropped as a client and Doe was — as part of his day-to-day team — terminated from her position.
Responding to Allen's claim that Jane Doe had previously asked for money, her lawyer tells Variety that isn't true. Elizabeth Fegan says they requested a meeting to resolve her client's claims, but Allen and his team would not agree. Furthermore, she alleges, his team made vague threats that they'd work to tarnish her reputation.
A representative Fegan has reached out to Taste of Country with the following statement, calling Allen's claim that Jane Doe demanded money from him "categorically not true." Fegan's statement is below:
The only ask we made of Allen and his legal counsel was to meet to discuss Allen's behavior and resolution of our client's claims. At no time did our client make a monetary demand. The response was a hard no, and colored with threats that his team would take steps to publicly tarnish my client. My client had no choice but to be proactive in protecting herself by filing the complaint.
Jane Doe never reported any of Allen's behavior to police — she says she feared retaliation if she took steps to become a whistleblower. The extent to which Variety corroborated parts of her story include: Public records, medical bills and hundreds of text message exchanges, many of which took place as the alleged assault was happening.
Friends and family also spoke to Variety on Jane Doe's behalf, matching key details of the story.
Allen is currently signed to Stoney Creek Records, a division of Broken Bow Nashville.
Country Stars' Real Names Revealed
Learn the real names of nearly 50 country music singers and superstars.