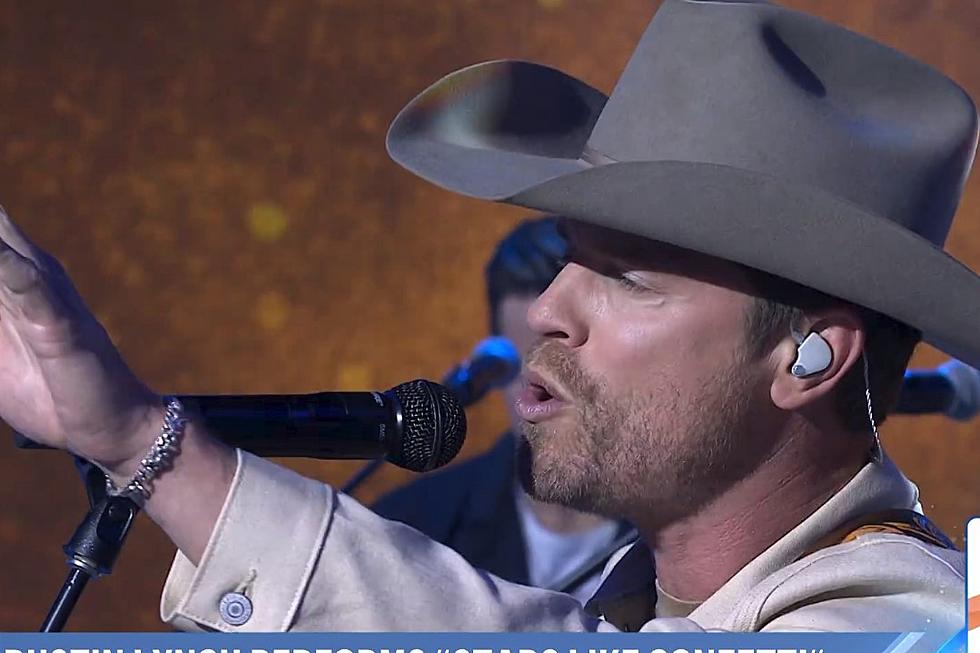 Dustin Lynch Performs Anthemic 'Stars Like Confetti' on 'Today Show' [Watch]
Today Show
Dustin Lynch stopped by the Today Show on Monday (March 6) to perform his new single "Starts Like Confetti." After chatting briefly about his album, Blue in the Sky, and his upcoming tour with Kane Brown, he launched into a lively performance of the falling-in-love track.
"Ooh, I don't remember what the radio was playin' / I was hangin' like the moon on all the words your lips were sayin' / All I know is there was magic in that Chevy / Baby, you were glowin', God was throwin' / Stars like confetti, ah / Stars like confetti, ah," Lynch belts out in the chorus.
Buy Kane Brown Concert Tickets Here
The "Seein' Red" singer wore blue jeans and a cowboy hat while strumming on a guitar held up by a personalized strap. He and his band played in front of a sparkly gold screen on Today, with dotted lights that danced across the stage just like falling confetti.
"Stars Like Confetti" is featured on Lynch's 2022 album Blue in the Sky. The project came together during the pandemic while he and his band were making the most of their time off of the road.
"The album really started coming — I guess — to fruition during the pandemic years," he tells Today. "We weren't allowed to tour in 2020, 2021, so we made the best of and threw a bunch of house parties, doing a lot of life on the water, on the lake in Nashville and writing songs."
Blue in the Sky is also the album home of one of Lynch's biggest hits, "Thinking 'Bout You," which features MacKenzie Porter. The track camped out in the Top 10 for weeks before reaching the top spot. It became the longest-running Top 10 song on Billboard's Country Airplay chart.
Up next, the "Ridin' Roads" artist will hit the road with Brown on the U.S. leg of his Drunk or Dreaming Tour. The trek begins March 16 and runs until June 10. According to Lynch, it's a tour that's been in the making for quite some time.
"He and I have been big buds for a long time so it's great to finally tour together," he explains of Brown. "We never have."
The Best Country Singer From Every State
Some states, like Oklahoma and Texas, are loaded with famous country singers. Others, like Nevada and Maine, are still looking for a real breakthrough artist. See the best and most successful country music artist from all 50 states, starting with
Hank Williams
and Alabama.