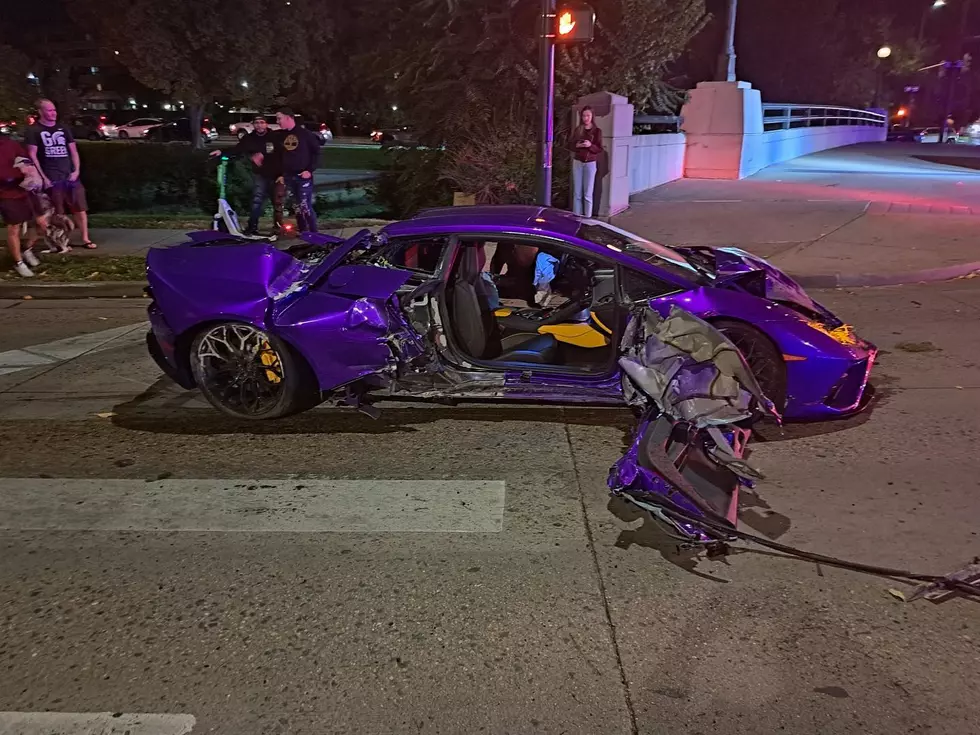 2 Lamborghinis Destroyed in Downtown Denver Accident Last Night
Credit: Denver Fire Department
An accident in Denver on Thursday night would make anyone who appreciates automobiles sick to their stomach. The Denver Fire Department shared photos of two exotic cars involved in an accident on Facebook.
The crash left the two Lamborghinis nearly unrecognizable. One purple Lamborghini sustained significant damage and the other Lamborghini was left so mangled that it appeared to be a miracle that the driver walked away from the accident.
The accident involving the two exotic supercars occurred in front of Denver Fire Station 1 at Broadway and Colfax in downtown Denver.  Denver Fire Department said:
Public Service Announcement: Drive safe this weekemd. Lots of events downtown. Last night 2 Lamborghinis were incolved in an accident that resulted in one vehicle catching fire in the front yard of Station 1. Fortunately no one was injured.
Currently, there is no information as to how much damage was caused by the accident. What we do know is that those that appreciate cars such as these are mourning a bit today. I am no expert, but it clearly appears that several hundred thousand dollars between the two Lamborghinis have been lost. Such a shame.
Source: Denver Fire Department 
5 Places to Rent an Exotic Car in Colorado
Looking to rent a Lamborghini or Ferrari? We know just the place.
Rocky Mountain High: This Home Has the Best Backyard in the World
This Estes Park home is listed for $2.1 million backs right up to Rocky Mountain National Park.
Take a Look Inside one of the most expensive homes for sale in Fort Collins