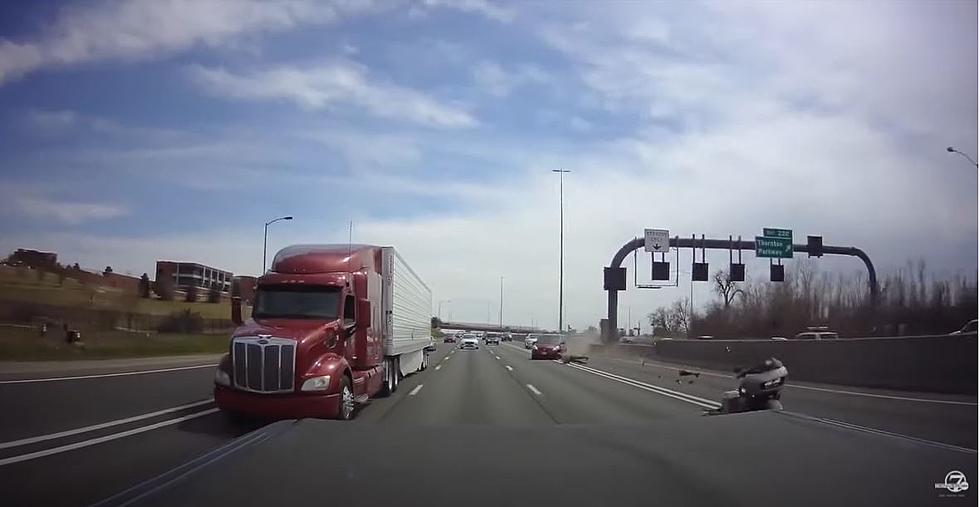 Dashcam Captures Footage of Motorcycle Accident on I-25
Credit: Denver Channel Youtube
A motorcyclist is lucky to be alive after an accident on Northbound Interstate 25 in Thornton on Saturday. The incident took place at approximately 2:30 p.m. near the 104th Avenue Exit.
According to The Denver Channel, Aaron Hughes caught the accident on his dashcam. The video shows a white 2006-2010 Toyota Sienna minivan speeding and swerving through traffic.
The driver of the white Toyota Sienna is seen cutting off a red Toyota Sienna and forcing the van to veer into the express lane where the motorcyclist was riding. The video shows the red Toyota slamming on the brakes and swerving to avoid the motorcyclist while the unmanned motorcycle traveled across three lanes of traffic and hit a semi-truck.
Thornton police state the motorcyclist, who appeared to be wearing a helmet, was not injured seriously and was not in need of medical transport from the scene of the accident.
Thornton police are actively investigating the incident and looking for the white 2006-2010 Toyota Sienna minivan with temporary license plates and damage fo the front passenger side.
Anyone that may have information on the driver and the Toyota Sienna involved in this incident is being asked to contact the Thornton Police Department.
Source: The Denver Channel 
Love to Garden? Look At This $2.3 Million Loveland Farmhouse
This Loveland farmhouse is selling for $2.3 million. Bring your plants and grow.
$8 Millions Denver Home has Secret Al Capone Speakeasy and an Infinity Saltwater Pool
This Denver home has a Chicago speakeasy, saltwater infinity pool, and more.
Get To Know The 37 Food Trucks Coming To This Summer's FoCo Food Truck Rally
One of the best outdoor events in the Choice City returns for another year on Tuesday, May 10 at City Park.
With so many food trucks and so many different kinds of foods to try at the Fort Collins Food Truck Rally every summer, it could feel overwhelming to decide which food truck to check out during your visit.
Whether you think you might want to try the food from one, two, or all food trucks set to be at this summer's food truck rally, it certainly wouldn't hurt to plan your food truck experience - read on to get more familiar with the 37 food trucks coming to this summer's FoCo Food Truck Rally.