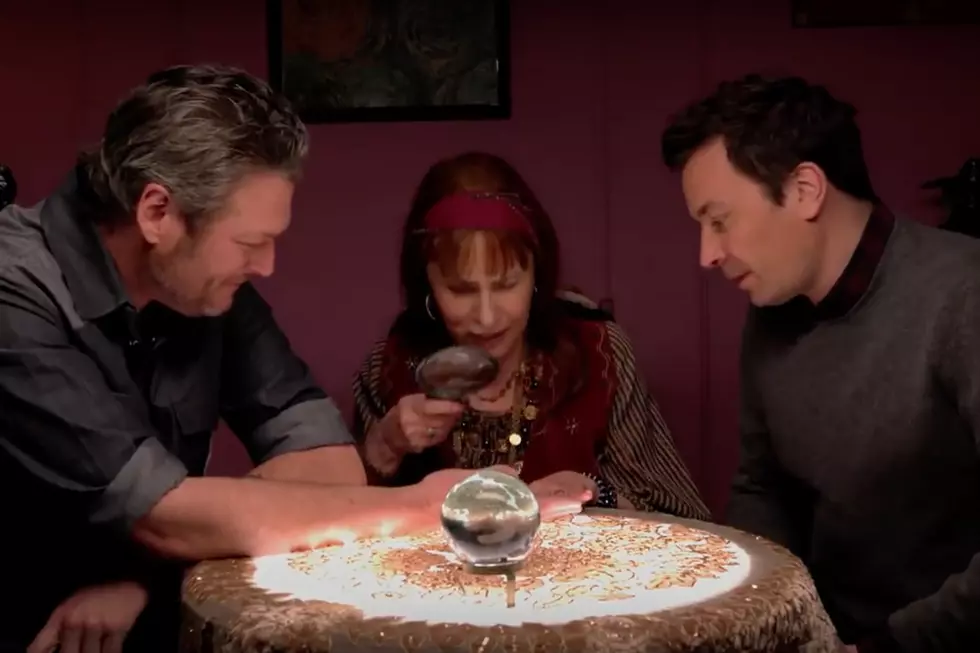 Blake Shelton and Jimmy Fallon Learn Each Others' Secrets at a Palm Reading [Watch]
The Tonight Show Starring Jimmy Fallon
Anytime Blake Shelton and Jimmy Fallon team up, antics ensue, and they brought their zaniness to a hilarious palm reading on The Tonight Show Starring Jimmy Fallon. 
It seems like the stars learned a thing or two about themselves when sitting down with Madame Fahrusha, but not without taking several subtle jabs at one another in the process. When analyzing Shelton's palm, Fallon couldn't help but make a crack at the singer's drinking habits when she told him he was overdoing something in the physical realm. It appears that in addition to being in exquisite physical heath, Fallon also has three soul mate lines on his palm, and Shelton knows exactly who they're for. "Your wife, Justin Timberlake and me," the singer retorts. "Soulmates."
Things take an interesting turn when the palm reader takes out a set of tarot cards, one of which states that Shelton has recently been spending time with a young man.
"I forgot to tell you this is an episode of Dateline," Fallon jokes, laughing.
"When you open that with, 'I've been spending a lot of time with a young man, you realize he's going to put this on television," Shelton jokes back.
Three Times Gwen Stefani Shaped Blake Shelton's New Album
The country star often plays along when participating in games on Fallon's show, but not without constantly reminding the late night host how much he regrets the decision. During a recent round of "Name That Song," Shelton suffered a bit of embarrassment when he was unable to identify one of his girlfriend Gwen Stefani's most famous songs, "Hollaback Girl."
Shelton is working with a new batch of talent during season 14 of The Voice. He's also announced that a new location for his Ole Red bar and venue is set to open in Gatlinburg, Tenn., in spring of 2019.
See the Cutest Pics of Blake & Gwen: